Labour "unequivocally committed" to protecting British sovereignty of Gibraltar
Friday, April 28th 2017 - 09:23 UTC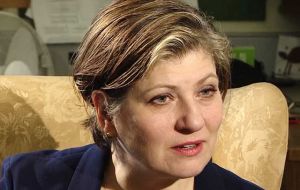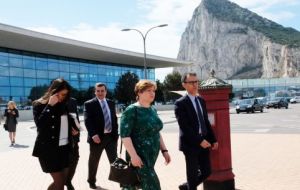 Labour is "unequivocally committed" to protecting the British sovereignty of Gibraltar, Shadow Foreign Secretary Emily Thornberry said during a surprise visit to the Rock. Mrs Thornberry was shown around Gibraltar International Airport and the frontier by Deputy Chief Minister Dr Joseph Garcia, on the back of a long standing promise.
Her visit comes as the Labour Party drafts its manifesto ahead of the snap election held on June 8.
Mrs Thornberry also met with Chief Minister Fabian Picardo and Attorney General Michael Llamas, Leader of the Opposition Daniel Feetham, the Minister for Economic Development Joe Bossano, Independent MP Marlene Hassan-Nahon and Unite the Union.
"I have been delighted to spend this time with Chief Minister Picardo and members of his Cabinet. Ahead of the General Election in June, I have reinforced to them that the Labour Party remains unequivocally committed to protecting the sovereignty of Gibraltar and the right of its people to self-determination," she said.
"We are also determined to protect Gibraltar's economy and ensure that its government can continue to create jobs and prosperity in the years to come."
She added: "Gibraltar is a great place and Brexit is a heck of a challenge, but with a government as good at lobbying than your government is I think you're going to be alright."
Having touched down on the Rock the night before Mrs Thornberry said the Gibraltar Airport had become a "monument to silliness" of the Spanish refusal to co-operate with the Rock.
"It is of course striking to walk down into a corridor in the airport and walk into a dead end and how unfortunate that is really," Mrs Thornberry said.
"As I say, not just for Gibraltar but for the people of Andalucia, how great it would be for them to have another airport."
"This is a little bit of a monument to silliness. A big airport like this that just stops. It is so unfortunate and politicians need to step up and sort this out" she underlined.