PM May had "constructive" talks with EC president Juncker and Brussels' chief Brexit negotiator Barnier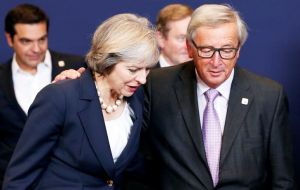 UK Prime Minister Theresa May has had "constructive" talks with European Commission president Jean-Claude Juncker on the Brexit process, Downing Street said. The Prime Minister hosted Mr Juncker and Brussels' chief Brexit negotiator Michel Barnier for a working dinner in Number 10 ahead of a summit on Saturday where the leaders of the 27 other EU countries will consider their approach to the talks on the UK's withdrawal.
Downing Street said the Prime Minister used the dinner to restate the UK's commitment to a "deep and special partnership" with the EU after Brexit.
A Number 10 spokesman said: "The PM had a constructive meeting this evening with president Juncker of the European Commission."
"Following the UK's letter of notification under Article 50, she reiterated the UK's commitment to achieving a deep and special partnership with the European Union."
"The PM and president Juncker also discussed a range of other international issues in a useful working dinner."
A European Commission spokesman said: "President Juncker had a constructive meeting with Prime Minister May. They discussed the broader geopolitical agenda and issues of strategic interest to both.
"President Juncker and Prime Minister May discussed the Article 50 process ahead of his participation in the European Council on April 29."
The meeting came after Mrs May's predecessor David Cameron said Britain must agree a "divorce bill" with the European Union before trade talks can start.
Mr Barnier, who met Mrs May face-to-face for the first time in Number 10, has insisted the UK must "settle the accounts" before beginning talks on a future trading relationship with the EU.
Senior members of the Government have insisted Britain will not pay a bill of the scale suggested by the likes of Mr Juncker, with International Trade Secretary Liam Fox branding the idea "absurd".
But Mrs May has said she is ready to discuss a "fair settlement" of Britain's obligations, although she has given no hint of the amount she is prepared to contemplate.
Brexit Secretary David Davis said "cool heads, strong leadership and traditional British resolve" will be needed to secure a good deal as the UK leaves the EU.
Speaking to the Prosperity UK conference in London, Mr Davis acknowledged Britain will have to make compromises in the negotiations, but insisted the country has "very good reason to feel optimistic".