Labour manifesto expected to strongly support Falklands' right to self determination
Saturday, April 29th 2017 - 09:10 UTC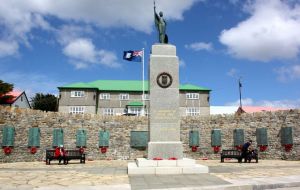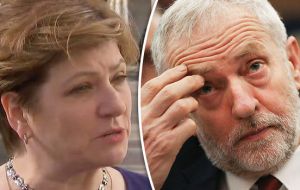 Shadow Foreign Secretary Emily Thornberry has strongly suggested that the Labour manifesto, to be launched on 15 May, will make clear that the disputed Falkland Islands will remain British for as long as those living there want to be, according to Politics Home
The internet news said Ms Thornberry dropped a massive hint about Labour's approach at the end of a visit to Gibraltar, whose status as a British overseas territory has also been at the centre of fierce debate in light of the Brexit vote.
"Britain's overseas territories are a fundamental part of our national history and Labour will always stand up for the rights, interests and self-determination of their citizens, whether that means protecting the sovereignty of the Falkland Islands against anyone who would seek to challenge it, or supporting the right of the Chagos Islanders to return to their homelands in Diego Garcia."
A senior Labour source said: "Expect similar language in the manifesto."
Ms Thornberry's remarks about the Falklands are at odds with comments made by Jeremy Corbyn in January last year. Speaking to the BBC at the time, he said: "There has to be a discussion about how we can bring about some reasonable accommodation with Argentina.
"It seems to me ridiculous that in the 21st century we could get into some enormous conflict with Argentina about the islands just off it. Yes, of course the Islanders have an enormous say in this; let's bring about some sensible dialogue.
Falkland Islanders voted overwhelmingly to remain British in a referendum in 2013. With a turnout of more than 91%, 1,513 were in favor, with just three against.
Mr. Corbyn has made clear his support for the people of Gibraltar to remain British - a stance repeated by Ms Thornberry. "The Labour party remains unequivocally committed to protecting the sovereignty of Gibraltar and the right of its people to self-determination."
A furious row broke out earlier this month when the EU's Brexit negotiating plans appeared to give Spain the right to exclude Gibraltar from any UK-EU transitional single market access arrangement, or trade deal if it is not satisfied with the status of the territory.