"Argentina offering investors the best opportunity in the past 25 years"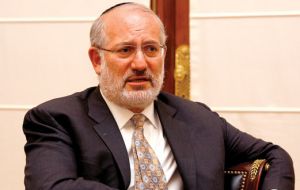 Argentina is offering investors the best opportunity in the past 25 years as President Mauricio Macri reforms the battered Latin American economy, according to real estate developer Eduardo Elsztain, said in an interview with Bloomberg.
"It's hard to express how much value the changes made by Macri are bringing to the country," said Elsztain, who runs Argentina's largest publicly traded real estate company, IRSA Inversiones y Representaciones SA, and recently tried to increase his stake in the Falkland Islands Holdings.
"We are executing the most aggressive investment program during the last 25 years because the values are still low", added the real estate developer, who is confident Argentina's economy will expand this year and next even as foreign investors remain cautious ahead of the October mid-term elections.
Argentina is being managed by sophisticated professionals and its high borrowing costs relative to its neighbors have started to decrease after the country emerged from default last year, Elsztain said.
"The process of building trust is not a 24-hour process," Elsztain, who also controls Israeli conglomerate IDB Development Corp., told Bloomberg at its global headquarters in New York.
However Argentina must keep reducing its fiscal deficit, which was 4.6% of GDP in 2016, and fight its soaring price inflation. But the economy contracted for a second month in February as declines in manufacturing and commerce undercut the nascent recovery seen late last year, data from the national statistics institute showed this week.
Nevertheless Argentina's Merval Index is one of the world's cheapest stock markets even after hitting a record high this year. It trades at an estimated price-to-earnings multiple of about 9 compared with a ratio of 12.6 for the MSCI Emerging Market Index.