US Supreme Court rules in favor of Venezuela in dispute with US oil drilling company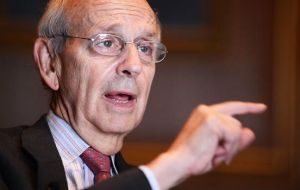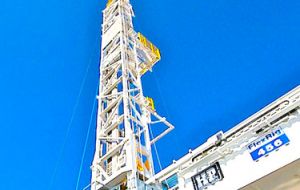 The U.S. Supreme Court on Monday tossed out a lower court's ruling that had allowed a US oil drilling company to sue Venezuela over the seizure of 11 drilling rigs in 2010 but allowed the business another chance to press its claims.
Siding with Venezuela, the justices ruled 8-0 that a lower court that had given the go-ahead for the suit must reconsider whether claims made by Oklahoma-based Helmerich & Payne International Drilling Company can proceed.
Writing for the court, Justice Stephen Breyer said the U.S. Court of Appeals for the District of Columbia Circuit in 2015 used the wrong standard in denying Venezuela immunity from the lawsuit.
The company sued both the Venezuelan government and state-owned oil companies under a U.S. law called the Foreign Sovereign Immunities Act, saying among other things that the property seizure violated international law.
The Foreign Sovereign Immunities Act allows for foreign governments to be sued in U.S. courts under certain circumstances, including when private property is seized.
On Monday, the justices said the appeals court wrongly allowed claims to move forward merely because a company had presented a "non-frivolous" case against a foreign government.
Breyer called that too low a bar to allow a suit against Venezuela. The lower court must decide whether any property had been taken in violation of international law.
"For present purposes, it is important to keep in mind that the Court of Appeals did not decide on the basis of the stipulated facts that the plaintiffs' allegations are sufficient to show their property was taken in violation of international law," Breyer added.
Helmerich & Payne had long provided drilling services for the Venezuelan government. The company disassembled its rigs in 2009 after Venezuela failed to pay US$100 million in bills. In response, Venezuela's government in 2010, assisted by armed soldiers, seized the property. Then-President Hugo Chavez ordered the seizure, saying the rigs could be used by government-owned companies.
The company said Venezuela seized the rigs "in substantial part because of the Chavez regime's pervasive anti-American animus."
It noted in court papers that a Venezuelan official had accused domestic opponents of the expropriation of taking orders from the United States and trying to "subsidize the big business transnational corporations, so that they can promote what they know best to do, which is war" led by the military industry of the American "empire and its allies."
The legal question before the justices was whether the company's lawsuit succeeded in meeting the legal criteria that would allow the case to continue. Venezuela, backed in the case by former President Barack Obama's administration, argued it did not.
A U.S. district court previously ruled largely in favor of the drilling company. The appeals court then blocked the company's separate breach of contract claim while allowing the expropriation claim to proceed.