Argentina paid homage to officers and crew that went down with the cruiser General Belgrano 35 years ago
Wednesday, May 3rd 2017 - 08:57 UTC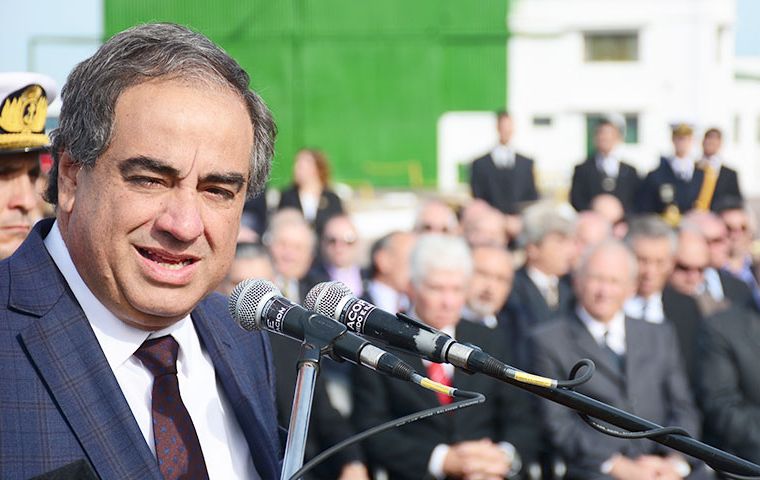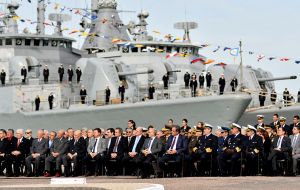 Argentina paid homage on Tuesday to the 323 crew and officers who lost their lives when the Navy's cruiser General Belgrano was sunk on 2 May 1982, by a British submersible in the midst of the Falklands conflict 35 years ago.
The main ceremony was in Puerto Belgrano, the Argentine Navy´s main naval base and was headed by Defense minister Julio Martinez. A second event took place at the Libertad building, seat of the Navy in Buenos Aires.
Minister Martinez in his speech said that Malvinas is a matter of state, it is "the inalienable calling of the Argentine sovereignty claim over out Malvinas Islands", no matter what government.
He added that "those sailors and soldiers who did the utmost sacrifice for their motherland, as well as their courage, solidarity and unity displayed, must be a permanent example for us and for the generations that will succeed us".
The minister also underlined the attendance of survivors of the sinking, "who thanks to God are here today with us, because they also have given us lessons as to how to continue to advance".
The ceremony was also attended by the commander of the Navy, Admiral Marcelo Eduardo Hipolito Srur, as well as other government and provincial officials, military personnel and special guests.
In Buenos Aires the chief of naval staff, Rear Admiral Pedro Galardi pledged that the Navy follows on the steps of its predecessors, "prepared to show that we are ready to follow their example whenever the motherland demands it"
Galardi honored all those who fought for the recovery of "our Islands and maritime spaces, which are standing and inalienable objectives of our Nation until our flag again flies over the Islands".
"We must publicly honor and recognize our fallen comrades for their example, and solemnly express their sacrifice has not been in vain: we are all determined to follow their steps to recover the sovereignty over our austral archipelagos".
Galardi added that General Belgrano lies in the bottom of the sea, "a monument to our people, a clear and vivid memory of our legitimate rights, and our gone comrades are the standing guards who gave their lives for the motherland".
Finally the naval officer underlined that in such extreme situation, when the cruiser went down, "men are tested to their utmost and it is when such qualities of leadership, training and discipline emerge, essential attributes of the men and women that make up the Argentine navy".
During the ceremony government representatives, officers, relatives, Malvinas veterans laid flower wreaths at the monument which honors those who lost their lives during the 1982 conflict.