High abstention in the range of 25% threatens French presidential runoff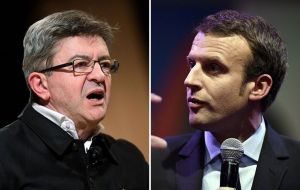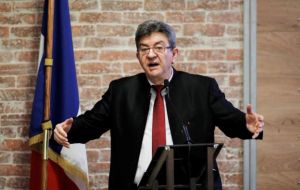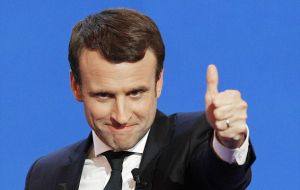 Fears that a high abstention rate could help far-right candidate Marine Le Pen in France's presidential runoff strengthened on Tuesday when two-thirds of far-left supporters said they intend to abstain or cast a blank ballot. An internal survey of supporters of defeated far-left firebrand Jean-Luc Melenchon showed only 35% would back pro-EU centrist Emmanuel Macron, Le Pen's rival and the frontrunner.
The rest will spoil their voting papers or stay at home on Sunday, it said. Communist-backed Melenchon, who leads the France Insoumise (Unbowed France) movement, scored more than seven million votes and finished fourth in the election's first round on April 23.
Macron, a 39-year-old former investment banker, still appears on track to become France's youngest president, with a poll on Tuesday giving him a strong lead of 19 points. But his camp has warned that a high number of no-shows, especially among left-wing voters, could hurt his chances. And other polls show 22 to 28% of citizens likely to abstain.
While most left-wing voters are turned off by Le Pen's anti-immigration and anti-EU policies, many also find it hard to back Macron's economically liberal approach. Company bosses, celebrities and scientific researchers have all called for people to rally behind Macron, who styles himself as "neither of the left nor the right". And the Socialist government said the far-left's decision to abstain en masse was "an error".
Spokesman Stephane Le Foll said he could not understand the decision, adding: "The left has traditionally always been in the fight against the National Front."
One of the highest-profile endorsements came from former Greek finance minister Yanis Varoufakis, an emblematic figure of the European radical left. Varoufakis said Macron was "the only minister in Europe who did everything possible to help us" during the 2015 debt crisis.
He told Le Monde newspaper that as the European Union, the International Monetary Fund and the European Central Bank were putting pressure on Greece over its debt mountain, then-economy minister Macron convinced French President Francois Hollande to reopen negotiations.
He said Macron "offered to come to Athens incognito" for talks, but Hollande stopped him. Macron "was the only member of the 'system' who opposed" the harsh stance on Greece, Varoufakis said.
The support is significant because Melenchon is close to current leftist Greek Prime Minister Alexis Tsipras. Daniel Cohn-Bendit, a veteran rebel of French politics, called on Melenchon's supporters to put aside their "hatred" of Macron.
"Think rationally and vote for Emmanuel Macron and defend democracy and freedom," the former ecologist Euro MP told Europe 1 radio.
Le Pen's own campaign hit a hurdle when it emerged Tuesday that she had copied parts of a fiery May 1 speech from one made on April 15 by Francois Fillon, the conservative candidate who was eliminated in the first round of the election last month.
In the speech in question in Puy-en-Velay, Fillon spoke of France's relationship with neighboring Germany, paid tribute to the French language and spoke of a third "French way" for the 21st century. Analysis by the Ridicule TV YouTube channel showed that the nationalist Le Pen repeated these passages almost verbatim in her speech on Monday.
Florian Philippot, the vice president of Le Pen's National Front (FN) party, said it was "not plagiarism", but "a nod to a short passage in a speech about France". And Le Pen added to the intrigue later on Tuesday, claiming in a television interview that the plagiarized passages had been deliberately used, likely in an effort to curry favor with Fillon supporters.
"We have in part the same vision of France as voters for Francois Fillon, of its greatness, the role that it must play in the world," Le Pen, a former lawyer, said.
Le Pen and Macron will face off Wednesday in what promises to be a fiery TV debate when she is likely to sharpen her attacks on a candidate she says embodies "the world of finance, of arrogance, of money as king".