WhatsApp suffers several hours global outage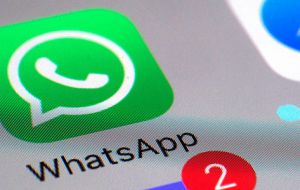 WhatsApp, the popular messaging service owned by Facebook Inc, suffered a widespread global outage on Wednesday that lasted for several hours before being resolved, the company said.
"Earlier today, WhatsApp users in all parts of the world were unable to access WhatsApp for a few hours. We have now fixed the issue and apologize for the inconvenience," WhatsApp said in an email late Wednesday afternoon but did not give any reasons for the inconvenience.
WhatsApp was down in parts of India, Canada, the United States and Brazil, Argentina, Uruguay according to witnesses. It affected people who use the service on Apple Inc's iOS operating system, Alphabet Inc's Android and Microsoft Corp's Windows mobile OS.
In Brazil, where the professional class relies heavily on the messaging service, WhatsApp was down for about two and a half hours. Many users switched to rival system Telegram, which has picked up millions of customers in Brazil after two previous WhatsApp outages resulting from court orders.
WhatsApp's is used by more than 1.2 billion people around the world and is a key tool for communications and commerce in many countries. The service was acquired by Facebook in 2014 for US$19 billion.