Falklands' cruise season totaled 55.633; expedition ships market expands 17.2%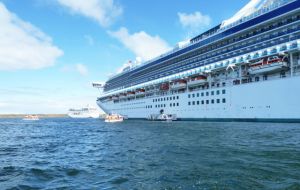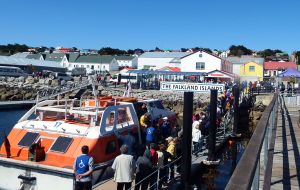 The Falkland Islands cruise season came to a close last month with 55,633 passenger arrivals visiting the Islands, only slightly fewer than the 56,476 who visited the previous season, reports this week's edition of Penguin News.
Final statistics supplied to Falkland Islands Tourist Board by Customs and Immigration show that 89% (49,000) of these were travelling on large cruise vessels, with the remaining 6,000 visiting on expedition ships.
However it was the expedition market that grew this season, expanding by 17.2%. By comparison, passengers on the larger vessels fell by 3.5%.
Two thirds of all passengers arrived on just three vessels, the Zaandam, Crown Princess, and Norwegian Sun.
Falkland Islands Tourist Board Interim CEO Stephanie Middleton said: "We are delighted with the number of cruise passengers visiting this season. We only had four cancellations, which accounted for a loss of around 5,000 passengers". Of particular note is how the origin of passengers is changing.
This season, one third (33%) of all passengers were from the USA, with 11% from the UK, 9% from Canada, 9% from Germany, 8% from Australia, 4% from Argentina,
and 26% from all other countries.
Whilst these are typically the main markets, there has been a significant change in arrivals trends.
Visitors from the USA were down 4.4%, UK was down 20.4%, Argentina down 29.3% and Brazil down 36%. This represents a loss of over 4,000 visitors from these countries.
The growth markets were Australia and New Zealand, up 45.6%, Germany, up 15.6% and Canada, up 12.6%.
Looking at the last eight years, the Chinese market has grown more than any other (at over 30% per year) but it still represents a very small proportion (2.5%) of all arrivals.
Next season is still taking shape, however, it is expected that there will be at least as many passenger arrivals as this season, possibly more if the weather is kind. (PN).
In related news the Falkland Islands Yacht Club reported that thirty two overseas yachts and three local yachts entered the Falklands from overseas during the past 12 months until March 31, 2017. (PN)