Falklands discusses Brexit impact on environmental funding with UKOTs
Friday, May 5th 2017 - 07:47 UTC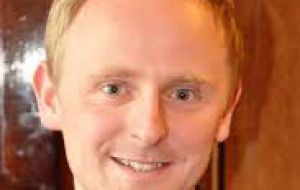 The consequences of the UK leaving the European Union on environmental funding of UK Overseas Territories (UKOTs) which includes the Falklands, was the subject of a meeting in Aldernay between representatives of 11 territories last week.
MLA Michael Poole confirmed he joined remotely for a session about the 'Green Economy' and funding for environmental matters. At the meeting it was agreed that UK's departure from the EU would remove major funding opportunities only recently achieved after many years of lobbying.
Overseas Territories will suffer various problems as a result of losing their status as Overseas Countries and Territories (OCTs) of the EU. As OCTs, the territories are eligible to apply for various forms of funding from the EU, including major environmental funding.
Also access to EU trade and information is of major economic benefit to UKOTs. A substantial amount of direct funding also goes to UKOTs, this having major indirect effects on the environment.
Apart from ongoing projects, which the UK Government has said it will underwrite after exit from the EU, it was noted that the UK Government had not yet indicated that it would provide funding to replace the EU potential funding, so that UK's international conservation commitments in its Overseas Territories were not disadvantaged.
This was despite discussions in the House of Commons Environmental Audit Committee that had underlined the fundamental need for it.
It was agreed at the Aldernay meeting that the UK Government needed to make funding available to UKOTs to replace that which would be lost.
The latter would be additional to the funds (currently as Darwin Plus and shorter-term initiatives) which are to meet part of the UK Government Commitments under the Environment Charters.
All of those considerations also apply to climate change, as well as conservation of biodiversity and ecosystem services. Under the EU-BEST (Biodiversity and Ecosystem Services in Territories of European overseas) scheme, some climate change focused projects have been funded, for example to provide the basis for better conservation of native plants, the habitats they form and the services they provide in the face of a changing climate.
It was concluded at the meeting that while the departure from the EU might have a negative impact it could also present an opportunity for the UK to be a greater champion of its Overseas Territories, particularly on the international stage through the support it gave them to mitigate and adapt to climate change. (PN).-