Gibraltar reacts to Spain's neo-colonial ambitions taking advantage of Brexit
Friday, May 5th 2017 - 08:00 UTC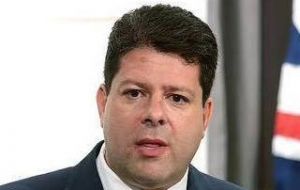 Gibraltar Chief Minister has reacted to the Spanish Foreign Ministry's Brexit document planning changes to the Rock's economic status, saying that as usual, the welfare of its own people hasn't got in the way of Spain's neo-colonial ambitions over Gibraltar.
The document, entitled Negotiations on the Withdrawal of the United Kingdom from the EU, states Spain plans to end Gibraltar's privileged existence as a Tax Haven and that it doesn't have to accept now, what it accepted in 1996, when it wanted to join European communities.
It reportedly says Spain cannot accept for the EU to negotiate with the United Kingdom a relationship that is not compatible with Spain's position on territorial claims and doesn't respect Spanish interests. It however does want the rights of nationals working in the UK to be respected.
Fabian Picardo says the Spanish Government's mask is slipping and that it's becoming abundantly clear it wants to try and use Brexit to take narrow advantage. Gibraltar, he says, will as ever, continue to seek dialogue over Spanish vetoes and will seek co-operation and friendship over Spanish aggression and belligerence.
But, "our goodwill will not be abused and soon Madrid will have to explain to the Campo why Spanish Citizens starting work in Gibraltar, post-Brexit, won't have the same rights as Gibraltarians in the work place".
The answer, he says will be the pyrrhic victory that is Clause 24 and the Spanish Government's decision to seek to exclude Gibraltar from any future arrangements between the UK and the EU. As usual, Picardo says the main victims will be the Spanish workers in a region of high unemployment.