Prince Philip, 95, steps down from royal duties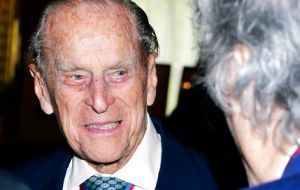 The Prince Philip, the Duke of Edinburgh, who will turn 96 next month, will step down from public life this fall, Buckingham Palace announced on Thursday. He will continue to carry out public engagements between now and August, according to a statement released by Buckingham Palace.
"In taking this decision, The Duke has the full support of The Queen," the release announced, referring to his wife and monarch Queen Elizabeth II, 91.
Prince Philip joked about his status on Thursday in his first public appearance after the announcement. Prince Philip and Queen Elizabeth attended the Order of Merit Service at St. James' Palace in London.
A guest at the reception following the service told Prince Philip, "I'm sorry to hear you're standing down." He was quick with a reply, "Well I can't stand up much longer."
Since 1952, Prince Philip has given 5,493 speeches, and participated in 22,191 solo engagements and 637 solo overseas visits, according to Buckingham Palace. After August, Prince Philip will "not be accepting new invitations for visits and engagements, although he may still choose to attend certain public events from time to time," the press release read.
The release was timed during a staff meeting called by the Lord Chamberlain and the Queen's most senior aides.
Reports of that meeting, first reported on Wednesday evening by The Daily Mail, set off fevered speculation overnight about the health of the monarchs, but well-placed senior Royal sources prior to Philip's announcement had indicated there should be "no cause for alarm."
Staff meetings like this are rare, but do happen and are "not unprecedented," according to the Royal sources.
In December, the Queen fell ill with a "heavy cold" and was absent from public view for several weeks, setting off concern around the world for the monarch's health.
Prince Charles, Prince William and Princess Kate and Prince Harry have all been stepping up their royal duties in recent years. It was announced in January that William, 34, and Kate, 35, would be based out of Kensington Palace as they increase their royal duties.
Kensington Palace also announced in January that William would be stepping down from his air ambulance pilot job to allow him to focus on his additional royal responsibilities.