Argentina and China will sign contract to construct two nuclear powered plants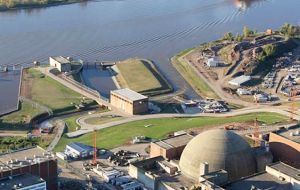 Argentina and China will sign next 17 May in Beijing a contract for the construction of two new nuclear powered plants, with an investment of US$ 12.5 billion, according to Argentina's Nuclear energy deputy secretary, Julian Gadano.
"We still have some details to iron out, but the frame contract will be signed when president Mauricio Macri makes an official visit to China", said Gadano, adding details referred to the financing.
In effect the long term loan for the construction of the two reactors is 20 years plus an additional eight, which will be repaid when the plant begins generating. The interest rate is estimated in the range of 4.5%.
According to the plan, Atucha III, Argentina's fourth nuclear plant will be constructed in the province of Buenos Aires, close to Atucha II and will produce 745 MW. Fuel will be natural uranium and heavy water, with works scheduled to begin in 2018.
Gadano said the whole construction of the project is estimated in seven years costing US$ 6bn. As to the fifth nuclear plant it will have a 1150 MW power and will be fueled with enriched uranium and light water.