Brazilian economy expected to begin takeoff in the first quarter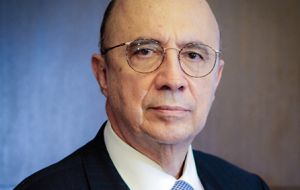 Brazil's economy will post growth of between 0.7% and 0.8% in the first quarter, turning the corner on a two-year recession, Finance Minister Henrique Meirelles said this week. In an interview with GloboNews cable channel, Meirelles said Brazilian companies will have to start to restock inventories and draw up investment plans.
Latin America's largest economy shrank 0.9% in the last three months of 2016, its eighth straight quarter of retreat. Unemployment has hit a record 13.7% with more than 14 million Brazilians looking for work. In the last two years the economy contracted 3.6% and 3.9%.
Meirelles said the reform of Brazil's costly social security system, the main cause of a gaping budget deficit, is crucial to restore growth and create jobs despite its unpopularity.
The changes to the pension system, which will extend the years Brazilians must work to retire on full benefits, are opposed by 71% of those surveyed by pollster Datafolha
The reform proposal by President Michel Temer is scheduled to face a key vote in committee, before it is put to a floor vote in the lower house of Congress next week.
The Brazilian economy performance has been strongly boosted by the agriculture sector, which is expected to harvest record crops.