M/V Reefer Uruguay in emergency heading for Falklands, was abandoned heavily trimmed by the bow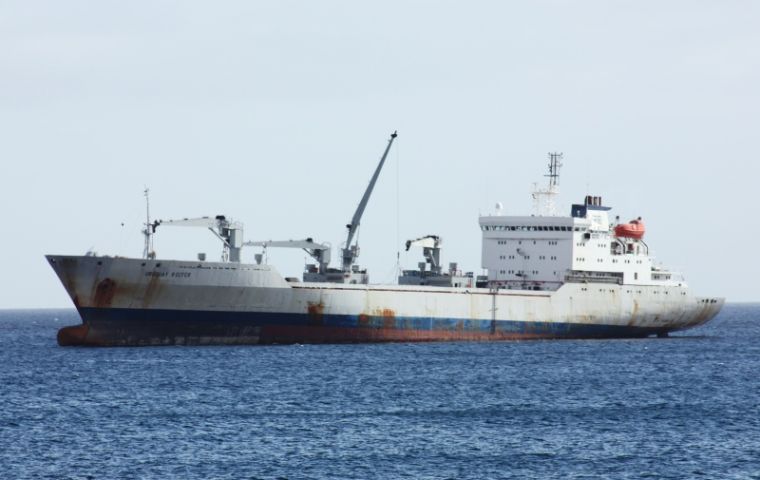 The "M/V Reefer Uruguay" which last Friday suffered a serious intake of water while sailing in the south west Atlantic and decided in emergency to head for the Falkland Islands, on Sunday it was abandoned following the rescue of its crew, and currently is being monitored by a second vessel, according to a press release from Baltmed Reefer Services Ltd.
The release states that on May 5, at 05:00 LT, refrigerated cargo vessel M/V Uruguay Reefer, IMO No. 9017264, under Panamanian flag, managed by Baltmed Reefer Services Ltd., Athens, and while being in laden condition in the South West Atlantic, with a cargo of frozen squid and krill, sent a distress signal and reported severe water ingress in her cargo holds.
Although the exact cause of water ingress remains unknown, it is the Master's belief that the vessel was damaged after hitting an unidentified floating ice formation. Two other vessels managed by affiliated companies, the nearest vessels to M/V Uruguay Reefer, were redirected towards the distressed vessel to render any assistance possible.
During the past 48 hours, under rough weather the crew were unable to stop the water ingress despite their most intensive efforts.
Mooring operations with the escort vessels were initially hindered by the adverse weather prevailing in the area, and on May the 7th, at approx. 05:00 am LT, the Master decided to abandon the ship since the flooding conditions had worsened considerably and the weather remained rough.
All crew of 42 people, were eventually safely transferred onboard escorting vessel M/V Taganrogskiy Zaliv. All crew was safely disembarked without injuries. The vessel was abandoned heavily trimmed by the bow.
The second escorting vessel M/V Frio Las Palmas remains in the area to monitor the situation.
This extremely difficult rescue operation was only possible due to the very experienced crews onboard all three vessels.
We thank both the Master of the vessel for his courageous actions to rescue his crew and the vessel under the most adverse circumstances and we thank the Master, officers and crew of all vessels involved in the rescue operation, concludes the Baltmed Reefer Services Ltd. media release.