"Malvinas March" becomes the official ceremonial music in Tierra del Fuego
Monday, May 8th 2017 - 05:53 UTC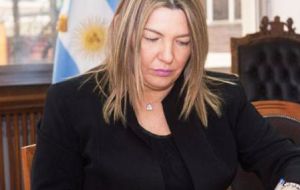 The province of Tierra del Fuego in Argentina has made playing the "Malvinas March" mandatory at the end of all institutional, official and military ceremonies organized by any of the three branches of the provincial institutional structure.
Governor Rosana Bertone stamped her signature to Decree 1188/17 and Bill 1154 making the "Malvinas March" as the official hymn of the Tierra del Fuego, Antarctica and Southern Atlantic Islands province.
Likewise the "Malvinas March" has to be sang in all school events at all levels of education, formal and non formal of the province.
The decree will not modify any protocol activities in the capital Ushuaia since the "Malvinas March" was already mandatory at municipal level since 2006 based on city regulation 3074.
In effect the March has been the official musical theme in all municipal official events and ceremonies, in the capital Ushuaia.