Malvinas Families want Argentina to resume next of kin trips to Darwin cemetery
Wednesday, May 10th 2017 - 08:44 UTC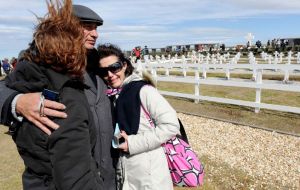 The Malvinas Families Commission have requested foreign minister Susana Malcorra for the Argentine state to resume the organization and financing of trips of relatives to the Darwin cemetery where the Argentine soldiers fallen during the 1982 conflict are buried, reports Clarin.
Allegedly the reply was "positive" but minister Malcorra told Maria Fernanda Araujo, president of the Commission, that such talks should take place once the DNA remains identification process at the Darwin cemetery, scheduled to begin this winter, has been completed.
The trips to the Falklands and coordinated by the International Red Cross with the Argentine and the local Islands governments, took off in 1991 and were quite regular during ex president Carlos Menem's time but when the Kirchners arrived to Government House in Buenos Aires, they became less frequent until completely stopped.
Members of the Malvinas Families also asked for a small chapel to be built at the cemetery to protect the hermitage with the Virgin and the Cross which overlooks the graves, which hopefully "the Pope might declare it a Prophetic meeting place".
Next 19 June the Red Cross is expected to begin the process of identifying the remains of 123 "Argentine soldier also known to God", out of the 237 tombs at Darwin cemetery. The operation is the result of an understanding between Argentine, the United Kingdom and the Falklands, coordinated by the Red Cross and will involve a team of forensic experts provided by both sides working in the field, while the DNA samples will be compared to those of consenting next of kin, and double checked in Cordoba and Spain.
Ambassador Maria Teresa Kralikas, head of the Malvinas and South Atlantic Desk of the Argentine foreign ministry also participated at the meeting of the Families with Malcorra.
According to Clarin the Families who have held several meeting with UK ambassador in Argentina Mark Kent, have also requested the British diplomat to help with the organization of the relatives' trips to the Falklands.