"Malvinas Islands already have a flag"
Wednesday, May 10th 2017 - 07:06 UTC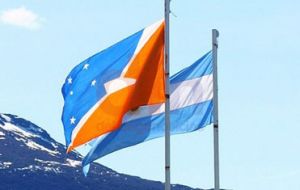 The initiative from an Argentine member of Congress to create a flag for the Malvinas Islands was rejected by Tierra del Fuego governor Rosana Bertone, who recalled that the Malvinas Islands are an integral part of the province of Tierra del Fuego, Antarctica and South Atlantic Islands.
"The Malvinas Islands belong to Tierra del Fuego and therefore already have a flag", said governor Bertone in reply to legislator Juan Jose Mussi proposal to create a new specific symbol for the Falklands/Malvinas to be exhibited in all government buildings.
"It should be remembered that Law 23.775 declared Tierra del Fuego, Antarctica and the South Atlantic Islands province, and a further bill 26.552 reaffirmed provincial boundaries including the Islands.
This means that Malvinas already has its flag which is the one of the province to which they belong, and is flown every day in our province, and which we dream to see flying in a near future, next to the Argentine flag, in our Islands", said the official statement from governor Bertone.