Chile cuts steel for its new 13.000 tons icebreaker to be operational in 2022/23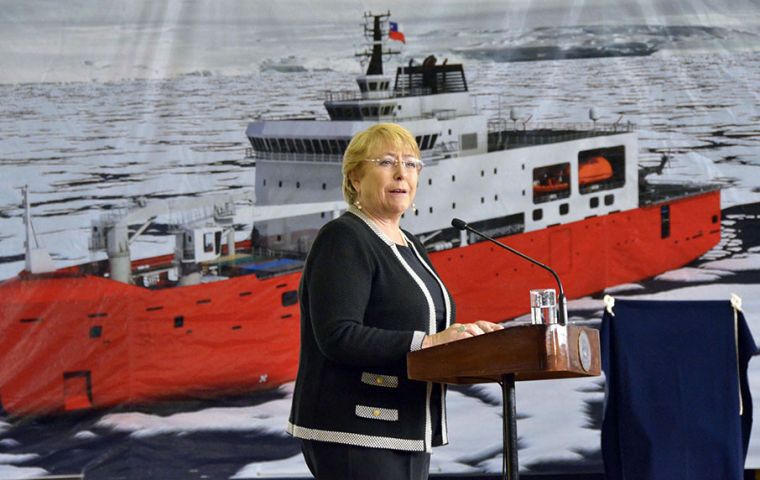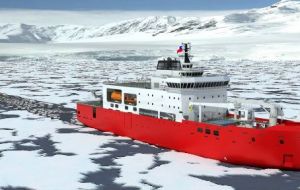 Chilean president Michelle Bachelet cut the first sheet of steel for the construction of the country's new icebreaker which is expected to be operational for the 2022/23 Antarctic season, replacing the ageing Almirante Oscar Viel. The US$ 200 million plus project based on a contract with naval architects and marine engineers Vard Marine, will be built at ASMAR Talcahuano, Shipbuilding & Ship Repair Company.
The Chilean Navy's 111-meters icebreaker of 13,000 tons displacement, rated for one meter of ice will carry a complement of 150, including 30 scientists, and will serve throughout the Southern Ocean for purposes of research, SAR, logistics support, resupply for Chile's bases in Antarctica and comply with the country's commitment to scientific research under the Antarctic treaty obligations.
VARD, the parent company of North America-based Vard Marine, is a specialist in the design and construction of offshore vessels, including ice-classed vessels for use in high-latitude projects. One of its ships is presently contracted to provide platform support for the Goliat field offshore Norway, the northernmost offshore oil rig in the world.
Chile's Navy announced its intent to replace its icebreaker Almirante Oscar Viel in 2014. The Oscar Viel was built in 1969 for the Canadian Navy as the Norman McLeod Rogers, and Chile purchased and renamed her in 1994 for Antarctic operations. The new vessel still unnamed is expected to comply with Chile's Antarctica interests for the next three decades.
"It's a great day for Chile and a great honor for me to participate in the steel plate cutting ceremony of this new icebreaker since it will place Chile in the vanguard of the protection and projection of the Antarctic continent and its surrounding area", said president Bachelet, adding it was beautiful "to attend the birth of a new vessel, which makes us Chileans very proud".
The new vessel, 111 meters long, 21 meters beam and 7.2 meters draft will have the capacity to sail at a constant speed of over 2 knots in one meter thick one year old ice, and will have a maximum cruise speed of 15 knots. Holds can carry 510 cubic meters of cargo, 400 cubic meters in pallets and will have a fuel tank of 400 cubic meters.
To address SAR operations as well as acting in emergency situations in Antarctica the vessel will have helicopters, rescue sped boats and an infirmary including surgery capacity. Likewise it will comply with the strict Polar Code, mandatory for all Antarctic and Arctic sailing, plus environmental specifics to comply with the Antarctic Treaty Madrid Protocol and will have the capacity to perform inspection duties for CCAMLR with the purpose of protecting the fragile Antarctic ecosystem.
More specifically for the Chilean navy the vessel will be equipped with a deep water multi-beam eco-sonar system essential for international chart drafting, plus hydro acoustics facilities, currents precision assessment, micro and macro-biologic laboratories, sea water sampling at different depths, and conservation facilities for benthonic, chemical and organic samples.
Rear Admiral Kurt Hartung, head of the Chilean Navy Services said that the new icebreaker with "all those capacities plus having thirty scientists permanently onboard, our researchers will be in a privileged position, with state of the art equipment, to advance science, particularly in the Antarctic continent".