Gibraltar preparing for a hard Brexit; expects new opportunities for financial services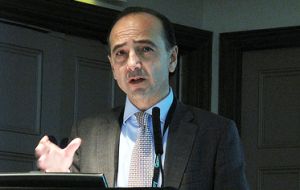 Gibraltar is preparing for a hard Brexit but expects new opportunities for its financial services sector despite the challenges ahead, Finance Centre Director James Tipping told a European Parliament committee in Brussels. Mr Tipping told the parliament's Committee of Inquiry into Money Laundering, Tax Avoidance and Tax Evasion that Gibraltar's finance centre was "small by European standards" but crucial to Gibraltar's economy.
But he said the Rock did not expect to obtain a "special status" after Brexit and was resigned to lose its access to the EU market once Britain leaves the bloc
"We are currently planning for a hard Brexit, but with a firm commitment from the United Kingdom government to maintain and broaden access to their financial markets from Gibraltar," Mr Tipping said.
"Thus our financial services economic model will not have to change."
"Indeed, it brings opportunity as we will be the only territory in Europe with automatic access to the United Kingdom in banking, insurance, investment services and any other similar area where cross-border directives currently apply."
Mr Tipping said that after Brexit, Gibraltar would continue to apply existing commitments on exchange of information, anti-money laundering and financial supervision.
"Going forward from that date, we will then choose whether to voluntarily apply any further new EU legislation or to adopt international standards which have the same effect," he said.
Tipping attended the session alongside former Commissioner of Income Tax Frank Carreras, who is advising the Gibraltar Government on taxation issues.
In the face of tough questioning from Spanish MEPs, Mr Tipping also delivered a robust defence of Gibraltar's commitment to fiscal transparency and the fight against international financial crime.
He reminded the committee that Gibraltar had signed scores of tax information exchange agreements worldwide and would as from September share information automatically with EU members under EU rules.
He said Gibraltar complied with OECD and other international standards and had "draconian" anti-money laundering legislation in place.
Questioned on the European Commission's ongoing investigation into Gibraltar's use of tax rulings, he said this was still at an investigative stage and no decisions had been made. But he added that Gibraltar was "entirely confident that there has been no element of state aid".