Falklands calamari squid first season has been "good", Illex so far "pretty mediocre"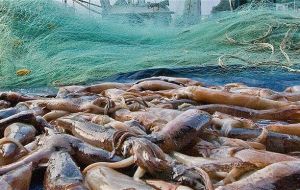 Falklands calamari squid catches in the Falkland Islands have been good this season reports Director of Natural Resources John Barton, and this is particularly good news bearing in mind Illex catches have been "pretty mediocre," so far.
Calamari is worth around £6.3 million per annum to the Falkland Islands Government and Mr. Barton said it had been, "a good first season with 39,425 tons caught." That compares to 46,444 tons caught in total in 2016, "and for example in 2015 the total Calamari catch for the year was just over 30,000 tons."
The first Calamari season of 2017 started in early March and has just finished.
Mr. Barton told Penguin News the Calamari caught, "represents a significant volume of quality seafood destined primarily for EU markets. This is the highest first season catch since 1995."
He added that although the season had been generally good there had been a few set-backs with vessels breaking down early in the season and having to be replaced by different vessels. The second Calamari season is due to start in late July.
Catches of Illex squid have not been so cheering with so far only around 62,000 tons.
The Illex season normally runs from February 15 until June 15 and with only about a month to go it doesn't leave much time to catch a great deal more squid.
Mr Barton qualified it saying: "This is a lot more than the 2,000 tons taken in 2016 but it is pretty mediocre. Catch rates are quite low."
2014 and 2015 were bumper years with catches of 300,000+ and 350,000+ tons, but somewhere around 150,000 tons is a more realistic hope most years.
He said the majority of vessels will leave the Illex fishery in mid May with "the Korean vessels fishing on for a short period."
Catches have also been modest in Argentina and on the high seas: "So whilst volumes are lower than desired by the industry the squid price may be quite reasonable."
Illex in a good year is worth around £11million in license fees to the Falklands government. However in bad years license fees are usually refunded.
Putting together all income from fishing licenses a reasonably lucrative year would raise around £21.5million. That includes the two squid license fee figures plus finfish licenses as well as access fees and corporation tax, "which is significant and that relates more at present to Calamari than Illex," said Mr. Barton. (Penguin News)