Nurse leadership vital for World Health Organization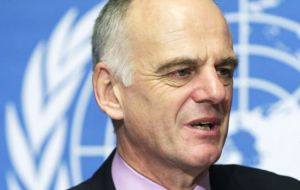 With more than 20 million nurses and midwives making up almost half of the entire global health workforce, Dr David Nabarro, candidate for Director-General of the World Health Organization (WHO) has pledged his support for increasing nurse leadership at WHO.
On International Nurses Day, Dr Nabarro has committed to seeking the views of WHO member states as soon as possible on having a senior nurse representing the profession at the top of the organization.
From responding to disease outbreaks like Ebola, to supporting people with long term conditions such as diabetes and cardiovascular disease as well as mental health, the contribution of nurses and midwives is vast.
This is in addition to the valuable scientific contribution nursing makes to research around antimicrobial resistance and the success of vaccine programmes.
Dr Nabarro said: "Over the course of my career I have worked with hundreds of dedicated nursing colleagues, including on the front line of health care delivery and in the policy development process. As well as saving lives in times of crisis they also help people to not just survive, but thrive.
"The nursing and midwifery perspective on all health issues is vitally important and must be brought to the table more. It helps to ensure effective interdisciplinary action as well as to improve the impact of human resources in health sector. If I am successful in my bid to become WHO's next Director-General I will be a strong advocate for nursing and midwifery and will work to elevate the profile of nurse leadership.
"I understand how valuable it would be for WHO's work going forward to have a senior nurse at the table. At an early stage I will commit to seeking the views of member states on this. I have made clear throughout my campaign that I wish to engage more closely with member states and to find out how WHO can be of maximum support to their governments and their people."
With an increasing population, new diseases, deadly outbreaks and resurging threats from old ones now resistant to antibiotics the challenges facing the global health community continue to grow. As Director-General of WHO Dr Nabarro will be committed to ensuring that the organization is fit to meet these challenges.
Dr. David Nabarro is the UK Candidate to be the next Director-General of the WHO. He has over 40 years of experience working in international public health as practitioner, educator and public servant.