Sovereignty of the Falklands will not be undermined, pledges Labour shadow foreign secretary
Monday, May 15th 2017 - 06:46 UTC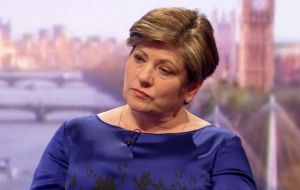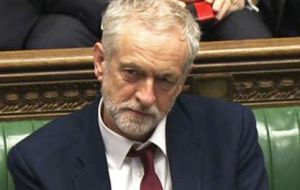 UK Labour's shadow foreign secretary, Emily Thornberry has accused Michael Fallon of talking "bollocks" after the defense secretary claimed she wanted to negotiate with Argentina over the future of the Falklands. In a spiky exchange on the BBC's The Andrew Marr Show on Sunday, Thornberry hit back at Fallon, saying: "That is bollocks. It's untrue," and adding: "You can't just make this stuff up."
Asked earlier whether she could envisage military action to protect the sovereignty of the Falklands, Thornberry had said simply: "Yes." She added: "I think that as a matter of last resort, if British citizens are being attacked, we defend them".
Asked if she could imagine negotiating over the Islands' future, she said: "You have to look at the alternatives first. In the end there is no solution to international disputes without there being international agreement, and it's a question of how you get there fastest." But, she stressed that "if we're under attack; we defend ourselves".
She also said: "There needs to be a future in terms of talking to neighbors of the Falklands … but certainly not undermining the sovereignty of the Falkland Islands".
Her tone was noticeably tougher than that of the Labour leader, Jeremy Corbyn, who gave a foreign policy speech on Friday saying a Labour government would focus on "defense, development and diplomacy", with armed action only as a last resort.
The shadow foreign secretary also underlined Labor's commitment to Nato, after being challenged over past remarks by Corbyn in which he was critical of the military alliance.
Thornberry, the Islington South MP who is regarded by some left-of-centre Labour MPs as a potential future leader, also reminded Fallon that he once attended a drinks reception to celebrate an election victory by the Syrian president, Bashar al-Assad.
When Fallon raised Corbyn's past association with senior figures from the IRA, Thornberry said: "I suppose if you judge people by who it is that you spend time with, the question has to be: do you remember where you were on 27 May 2007?
"I'm not going to judge you on you going to a reception with Assad and I don't think that people should judge Jeremy by trying to talk to people who might be open to a settlement in Northern Ireland."
Several Labour MPs appeared cheered by her performance, with Chuka Umunna describing it as "beautiful".
Fallon accepted that he had visited Syria in 2007 as part of a parliamentary fact-finding mission, but said he did not remember attending the reception, which was held to celebrate Assad winning 99% of the vote in the election. The trip was organized by the British Syrian Society, set up by Assad's father-in-law, Fawaz Akhras. Several other UK MPs, including the health secretary, Jeremy Hunt, went on the visit.