TPP 11 committed to go ahead despite the Trump administration dropping out
Monday, May 22nd 2017 - 08:51 UTC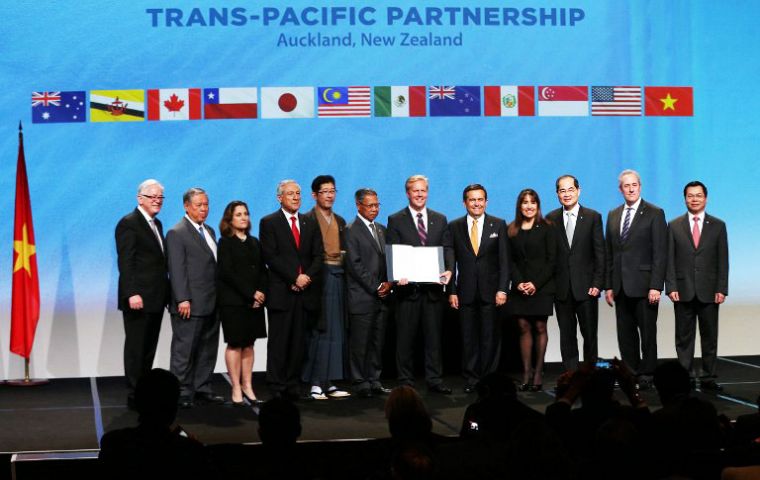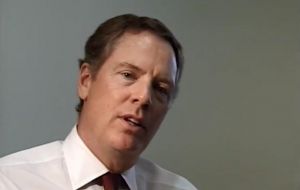 Asia-Pacific trade ministers agreed to try to revive a massive free trade pact, even though the United States reaffirmed its decision to pull out, as fears grow of a new global era of protectionism. The 12-nation Trans-Pacific Partnership (TPP) covered 40% of the global economy before US President Donald Trump abruptly abandoned it in January, to meet a campaign pledge to save American jobs which he says have been sucked up overseas.
Japan, Australia and New Zealand are leading efforts by the so-called TPP 11 to resuscitate the agreement, convinced it will lock in future free trade and strengthen labor rights and environmental protections.
After an early-morning huddle in the Vietnamese capital Hanoi, New Zealand Trade Minister Todd McClay told reporters that the TPP 11 "are committed to finding a way forward to deliver" the pact.
Trade representatives agreed to help the US to rejoin the deal at any time, pinning hopes on a U-turn in American policy. Trump's newly appointed trade chief Robert Lighthizer, however, poured cold water on the prospect of a US return, saying Washington "pulled out of the TPP and it's not going to change that decision".
"The TPP 11 can make their own decisions, the United States makes its decisions, that's what sovereign nations do," Mr Lighthizer told reporters, adding that his nation will "stay engaged" in the area, albeit on a bilateral basis.
Spearheaded by then US President Barack Obama, the far-reaching TPP - which notably excludes China - would have rewritten the rules of 21st century trade. After seven years of negotiations, the finalized proposal was signed in February last year, but cannot go into force until it is ratified by six countries with a combined 85% of the bloc's total gross domestic product.
The deal goes further than most existing free trade pacts, with labor laws, environmental protections and intellectual property rights touted as a new gold standard for global trade. It promised to transform smaller economies such as Vietnam by offering unprecedented access to the world's top economies. The deal was also seen as a way to counter China's regional economic dominance.
TPP ministers met on the sidelines of a gathering of trade ministers from the Asia-Pacific Economic Cooperation forum in preparation for their November summit. Although the TPP members kept the trade agreement alive, they fell short of a wholehearted commitment to advance immediately with the deal.
"We're focused on how we can move ahead with 11 countries," New Zealand's Mr McClay said.
One of the biggest challenges is keeping on board Vietnam and Malaysia, which signed up for the deal and promised to make major reforms, largely to get better US market access.