Manchester terrorist´s family members arrested; search for support network in Europe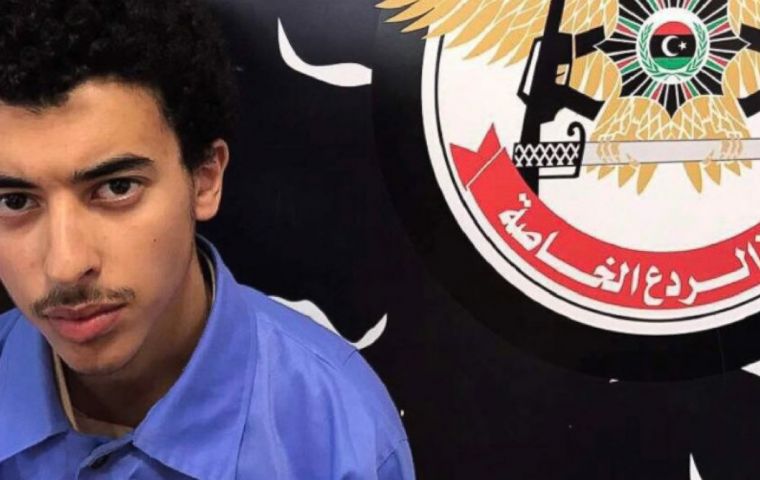 The brother of Salman Abedi, the suspect accused of carrying out a bombing in Manchester, England, that killed 22 people, allegedly said he knew his brother was going to carry out an attack, but did not know where or when, according to a spokesman for Libya's counter terror forces.
Abedi, 22, the suspected suicide bomber, died at the scene of Monday night's attack at an Ariana Grande concert. Authorities found what was described as a bomb-making workshop in Abedi's home in Manchester, with enough chemicals to build several additional bombs.
Libyan authorities had been following Hashem Abedi, the suspect's brother who was born 1997, for a month and a half because of suspected links to ISIS, said Ahmed Dagdoug, the spokesman for Libya's counter terror forces. ISIS claimed responsibility for the attack.
The two brothers were close, and Dagdoug said that Salman placed a call to Hashem, as well as their mother, 30 minutes before carrying out the attack.
On Tuesday, that brother was detained in Libya. During interrogation, Hashem Abedi revealed that he knew his brother was going to carry out an attack, but he did not know where or when, Dagdoug said.
Dagdoug said Hashem Abedi also revealed that he knew exactly how the bomb was made, and that he believes that Salman created the device by himself. He said that he provided some assistance to his brother, but added no specific details as to what that was. Dagdoug said a network was involved in planning the attack.
The brothers came to Libya on April 18 and Salman Abedi departed on May 17, Dagdoug said. It's not clear at this time if Salman went to Syria, Dagdoug said.
Salman Abedi's father, Ramadan Abedi, was also arrested in Libya. Ramadan Abedi was interviewed from Libya while in detention, and he denied that his son was a follower of ISIS, who claimed responsibility for the attack on Tuesday.
"Salman doesn't belong to any organization," he told the news agency. "The family is a bit confused because Salman doesn't have this ideology, he doesn't hold these beliefs."
Dagdoug said that the two brothers do consider themselves to be members of ISIS and said that they had been studying ISIS videos online, including instructional videos that teach the viewer how to make a bomb.
In England police activity continues in connection to the Monday night explosion killing 22 and injuring over sixty. Another of the suspect's brothers, 23-year-old Ismail Abedi, was arrested in Manchester, a security official confirmed.
A total of eight men have been taken into custody in the U.K. in connection with the attack. A woman who was arrested earlier was released without charge, police said. Under British law, a person can be taken into custody in a terrorism investigation and held up to 14 days without being charged.
Chief Constable Ian Hopkins of the Greater Manchester Police said on Wednesday, "This is clearly a network that we are investigating, and extensive activity is taking place across Greater Manchester as we speak."