Odebrecht offices in Buenos Aires raided as part of an investigation into bribes
Friday, May 26th 2017 - 07:34 UTC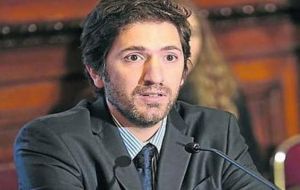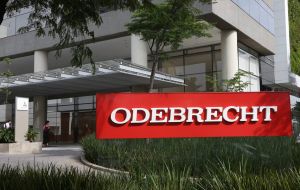 Argentine federal agents searched the offices of the Brazilian construction conglomerate Odebrecht in Buenos Aires on Wednesday as part of an investigation into alleged bribes in the granting of construction contracts for a water treatment plant.
Federal Judge Sebastian Casanello ordered the raid as part of a probe into the alleged bribe during the 2007-2015 presidency of Cristina Fernandez.
Odebrecht said in a statement it had gone before the judge earlier this month and is cooperating with authorities.
"The company reaffirms its position of collaborating with the law and hopes to recover the people's trust through its honest, ethical and transparent corporate behavior," the statement said.
Odebrecht is a key focus of the "Car Wash" investigation into a mammoth kickback scheme at Brazil's state-run oil company, Petrobras, the biggest corruption scandal in that country's history. The initial investigation was launched in 2014 and has mushroomed into related probes abroad because companies like Odebrecht operated across Latin America.
Odebrecht's executives confessed to U.S. prosecutors earlier this year that they paid around US$788 million to officials in 10 Latin American countries and two more in Africa to get multimillion-dollar contracts with local governments.
They said that included paying about US$35 million in Argentina between 2007 and 20014 when president Cristina Fernandez was in office.
Ex president Fernandez is the subject of investigations into alleged corruption, money laundering, possible illegal enrichment and state fraud as part of her government's handling of the dollar futures market. She has denied any wrongdoing.
Since Fernandez ended her term in December 2015, President Mauricio Macri's administration has promised to crack down on the entrenched corruption that has long plagued Argentina.
Macri's spy chief, Gustavo Arribas, has also been linked to the Car Wash scandal. Leonardo Meirelles, a black market money dealer who accepted a plea bargain in the case, recently said that the Odebrecht and OAS companies paid Arribas nearly US$850,000 in bribes in 2013. The money was allegedly deposited into a bank account held by Arribas just before Odebrecht won a construction bid for a main railroad line in Buenos Aires. Arribas denies any wrongdoing.
The raids in Buenos Aires came hours after Odebrecht offered to collaborate with Argentina's government in the investigations in exchange for a deal.
"President (Macri) gave us an order to try to get the most complete information as soon as possible," Justice Minister German Garavano told local radio Mitre. "Yesterday, one of (Odebrecht's) lawyers met with us and gave us a proposal that is being reviewed."
Garavano did not provide details about the company's offer. But he said that so far "the biggest inconvenience to this proposal is based on Brazilian laws, which are pretty different to Argentina when it comes to these issues of granting information and what regards a leniency plea."