Falklands' Darwin cemetery Red Cross team flies to the Islands on Saturday
Thursday, June 1st 2017 - 09:39 UTC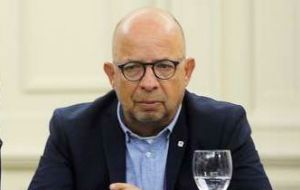 The International Committee of the Red Cross, ICRC, which will lead the task of identifying the unknown Argentine combatants buried at the Darwin cemetery in the Falkland Islands, and currently in Buenos Aires, will be arriving in the Islands next Saturday and work is expected to begin as had been anticipated on 19 June.

"I'm proud and happy of leading this process. We know it is painful for the relatives and we hope we can deliver replies to most of them", said the head of the ICRC Humanitarian Project Plan, Laurent Corbaz during a meeting on Wednesday with the media.

Corbaz is making the round of contacts with Malvinas relatives and Argentine officials from different ministries together with Lorenzo Caraffi, Red Cross Regional delegation head for Argentina, Brazil, Chile, Paraguay and Uruguay, and the Buenos Aires representative Diego Alonso Rojas Coronel.

The Humanitarian Project Plan is the result of the December 2016 agreement between Argentina and UK, with Falklands' government consent and presence, and will try to identify the remains in most of the 123 graves, which are marked "Argentine soldier, known only to God" at the Darwin cemetery. The Argentine memorial holds a total of 237 graves from the 1982 conflict when Argentine military invaded the Falklands.

According to the agreement twelve forensic experts, from Argentina, UK and ICRC will have the task of extracting DNA samples to cross check with those from the next of kin. The two British have been identified as John Clark and Jon Sterenbergy and the Argetines Luis Fondebrider and Mercedes Salgado. They were selected by ICRC from two lists presented by the two countries.

The delegates are expected to work at the cemetery until the end of August and will be exhuming two/three graves per day depending on climate conditions. A final report is to be available to the two governments and Malvinas families at the end of the year. Cemetery will be strictly out of bounds for the media and the public during the months the ICRC team is working.

The remains' samples will be checked at the Cordoba lab which (so far) has DNAs from 95 relatives. Some samples will be randomly double checked in similar labs in UK and Spain. The remains, most of them buried in battle bags will be reburied in proper caskets.

Apparently information supplied by a British Army Colonel, Geoffrey Cardozo will be of great support since he was in charge, with other professional staff, of collecting the dead soldiers after the 1982 war and of burying them at Darwin cemetery.