Relief for Temer: Brazilian economy grew 1% in first quarter of the year
Friday, June 2nd 2017 - 08:15 UTC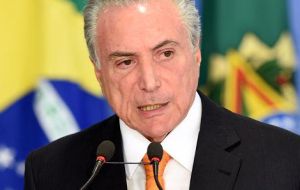 Brazil's economy grew by one percent in the first quarter of 2017, ending eight consecutive quarters of shrinkage in the country's worst recession in history, the state statistics office said Thursday. While not definitively ending the recession, the spike in growth offers another glimmer of light for Latin America's biggest economy -- and could throw a lifeline to President Michel Temer as he tries to fend off a huge corruption scandal.
Data from the IBGE statistics bureau put the good news in its dismal context, however, showing that this quarter's GDP was down 0.4% compared to the same period in 2016. Overall in 2015 and 2016, the economy dropped 3.8%, then 3.6%.
The first-quarter bounce was led by a surge from Brazil's giant agro-industry, up 13.4%. The industrial sector grew 0.9%, while services were flat.
Temer, who faces a probe into alleged corruption and plotting to silence a witness, is staking his bid to retain power on Brazil's tepid comeback. The president has already repeatedly declared an end to the recession, citing forecasts predicting 2017 will close with about 0.5% growth. A conservative who has appointed a respected economic team, Temer is pushing austerity reforms to impose fiscal discipline.
Although deeply unpopular with ordinary Brazilians, the reforms are backed by the markets. Temer argues that any move to remove him from office would doom the reforms and plunge Brazil into new instability.
There was another piece of good news on Wednesday, when unemployment figures showed a slight dip to 13.6% rather than yet another record rise. It was the first fall in unemployment figures since 2014. With the previous rate at 13.7%, economists had been bracing for another hike to 13.9%. Even so, 14 million people officially remain without jobs.