"Enough is enough" says PM May, "too much tolerance of extremism in our country"; confirms Thursday election
Monday, June 5th 2017 - 08:12 UTC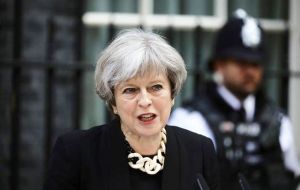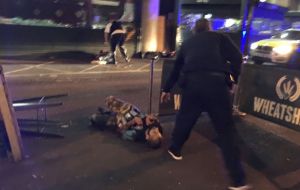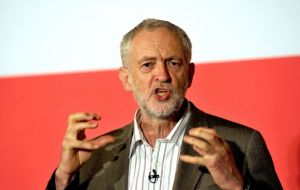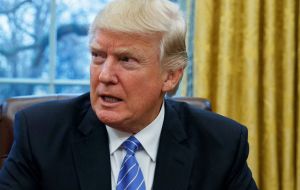 Prime Minister Theresa May said Britain must be tougher in stamping out Islamist extremism after attackers killed at least seven people by ramming a van into pedestrians on London Bridge and stabbing revelers in nearby bars. After the third militant attack in Britain in less than three months, May said Thursday's national election would go ahead. But she proposed regulating cyberspace and said Britain had been far too tolerant of extremism.
"It is time to say enough is enough," the Conservative leader said outside her Downing Street office, where British flags flew at half-staff. "We cannot and must not pretend that things can continue as they are," May said, adding that Britain was under attack from a new breed of crude copycat militants.
One French national and one Canadian were among those killed. At least 48 people were injured in the attack. Australia said one of its citizens was among the injured.
Police shot dead the three male assailants in the Borough Market area near London Bridge within eight minutes of receiving the first emergency call shortly after 10 p.m.
Mark Rowley, head of counter-terrorism police, said eight officers had fired about 50 bullets to stop the attackers, who appeared to be suicide bombers because they were wearing what turned out to be fake suicide vests.
"The situation these officers were confronted with was critical: a matter of life and death," Rowley said. "I am humbled by the bravery of an officer who will rush towards a potential suicide bomber thinking only of protecting others."
A member of the public received non-critical gunshot wounds. Police did not release the names of the attackers. London police arrested 12 people in the Barking district of east London in connection with the attack and raids were continuing there, the force said. Less than two weeks ago, a suicide bomber killed 22 children and adults at a concert by U.S. singer Ariana Grande in Manchester in northern England.
In March, in a attack similar to Saturday's, five people died after a man drove into pedestrians on Westminster Bridge in central London and stabbed a policeman.
May said the series of attacks were not connected in terms of planning and execution, but were inspired by what she called a "single, evil ideology of Islamist extremism" that represented a perversion of Islam and of the truth.
She said this ideology had to be confronted both abroad and at home, adding that the internet and big internet companies provided the space for such extremism to breed.
Facebook said it wanted to make its social media platform a "hostile environment" for terrorists. Twitter also said it was working to tackle the spread of militant propaganda.
England's health authority said on Sunday afternoon that 36 of those injured remained in hospital, of whom 21 were in a critical condition. PM May made a private visit to staff and patients at King's College Hospital, where some of the injured were being treated, a spokeswoman said.
The government announced that a nationwide minute of silence would be held at 1000 GMT on Tuesday to pay respect to the victims of the attack and flags would remain at half-mast on government buildings until Tuesday evening.
May, who served as Britain's interior minister from 2010 to 2016, said there was too much tolerance of extremism in Britain. "While we have made significant progress in recent years, there is - to be frank - far too much tolerance of extremism in our country," she said, urging Britons to be more robust in stamping it out in the public sector and in wider society.
Opposition Labour leader Jeremy Corbyn said Britain needed to have difficult conversations with Saudi Arabia and other Gulf states about the funding of Islamist extremism.
U.S. President Donald Trump, taking to Twitter on Sunday, urged the world to stop being "politically correct" in order to ensure public security against terrorism.
Most of the main political parties suspended election campaigning on Sunday, but May said this would resume on Monday. The anti-European Union UK Independence Party said it would not suspend its campaign because disrupting democracy was what the extremists wanted.
Ariana Grande and other music stars were giving a benefit concert at Manchester's Old Trafford cricket ground on Sunday evening to raise funds for victims of the concert bombing and their families.
"Today's One Love Manchester benefit concert will not only continue, but will do so with greater purpose," Grande's manager, Scooter Braun, said on Twitter after the London attack.
London Mayor Sadiq Khan said the official threat level in Britain remained at severe, meaning a militant attack is highly likely. It had been raised to critical after the Manchester attack, then lowered again days later.
"One of the things we can do is show that we aren't going to be cowed is by voting on Thursday and making sure that we understand the importance of our democracy, our civil liberties and our human rights," Khan said.
German Chancellor Angela Merkel, French President Emmanuel Macron and Russian President Vladimir Putin were among those who sent messages of condolence and made statements of solidarity.
The Manchester bombing on May 22 was the deadliest attack in Britain since July 2005, when four British Muslim suicide bombers killed 52 people in coordinated assaults on London's transport network.