Temer receives 84 questions from the federal Police; he has 24 hours to reply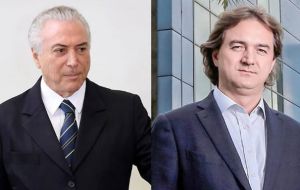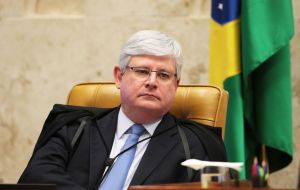 Brazilian media are reporting late Monday that the country's federal police have asked embattled President Michel Temer 84 questions related to an investigation of corruption allegations against him. Temer has faced growing calls to resign amid the scandal. He has 24 hours to reply to the questions delivered Monday afternoon.

The deadline will come shortly after the beginning of an unrelated electoral court trial that could also affect Temer's ability to stay in office.

Brazilian media say the questions focus on a conversation between Temer and one of the owners of meatpacker JBS. Executive Joesley Batista recorded a conversation with Temer in March and provided evidence for an investigation of the country's top prosecutor.

Monday's front pages of newspapers were dominated by accusations made by Temer's lawyer that Prosecutor General Rodrigo Janot is pressuring the Supreme Electoral Tribunal to rule against Temer when it meets to deliver a verdict.

Temer has been hanging by a thread since the revelation of the secret audio in which he is allegedly heard giving his blessing to payment of hush money by a meatpacking tycoon to a top politician jailed for corruption.

But starting Monday and until Thursday Temer faces the separate, more immediate challenge of the Supreme Electoral Tribunal, TSE, which is deciding whether abuse of power – principally the use of corrupt campaign money – fatally undermined the validity of the 2014 election in which Temer was reelected vice-president with then-president Dilma Rousseff.

When Rousseff was impeached last year, Temer took over. If TSE judges Temer to have been responsible for abuses in 2014, the court could then annul the election results, throwing Brazil into even deeper political chaos.

On Sunday, Temer's lawyer Gustavo Guedes claimed that Janot is leaning on the TSE "to pressure the court and find the president guilty".

"We are worried the prosecutor general of the republic is using all the apparatus that he has to attempt to pressure" the court, he told Folha newspaper. The accusation ramped up the tension in the capital Brasilia ahead of the court hearing.

The panel of seven judges is scheduled to meet and reach a verdict on Thursday – unless an adjournment is called. For now, Temer still has several escape routes.

If found guilty by the TSE, he could appeal, staying in office while the process plays out.
And even if the Supreme Court accepts an indictment filed by Janot, two-thirds of the lower house of Congress, where Temer still retains significant support, would also have to approve the motion.