Brazilian meat packer Minerva buys JBS plants in Mercosur member countries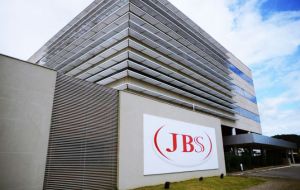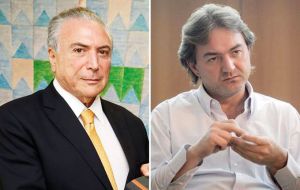 The Brazilian meatpacking giant JBS says it has sold its units Mercosur members, Argentina, Paraguay and Uruguay to companies controlled by a rival meat processing company in Brazil. JBS said in a Tuesday securities filing that it sold meat processing plants in the three countries for US$300 million to Minerva in Sao Paulo state.
JBS executives are at the center of a political crisis engulfing President Michel Temer. In a secret audio recording of JBS executive Joesley Batista in March, Temer appears to be condoning a payment of hush money to imprisoned former House Speaker Eduardo Cunha.
JBS last week agreed to pay a more than US$3 billion fine for its role in a corruption scheme involving pension funds. JBS will use proceeds from the transaction to cut debt, according to a securities filing on Tuesday. The deal has already been approved by the boards of both companies.
Minerva said in a conference call it will pay US$280 million in cash at the closing of the transaction, which is expected in July. The balance will be paid after the conclusion of due diligence.
Weakness at JBS' Mercosur division as well as a stronger Brazilian currency contributed to a 14.3% drop in the company's net revenue in the first quarter.
Minerva increased its net revenue estimate to a range of 13 billion reais to 14.4 billion reais in the 12 months ending June 2018, it said, to account for a 52% increase in slaughtering capacity after the acquisition.
Minerva explained that of the five plants acquired from JBS in Argentina, four are closed and will remain so until market conditions improve there. All plants bought from JBS have certification to export to the U.S., European and China, Minerva said.
The transaction with Minerva is subject to regulatory approval and the final price will be adjusted by the amount of working capital left at the acquired units, according to filings from both companies.
However not everybody is satisfied. Uruguay cattle ranchers are concerned that with Minerva taking over the JBS meat packing plants, the industry is managing a dominant position since there will be only two companies left as cattle buyers given the concentration of meat packing plants.
Furthermore members of the Uruguayan Rural Association pointed out that such huge multinational companies dominating the Uruguayan beef industry can easily impose their conditions and the country's interests could not necessarily be aligned with private company interests.
"Uruguay has invested heavily for decades in improving cattle, sanitary conditions, achieving access to almost all world markets, and suddenly the industry is in the hands of foreign multinationals, so powerful they could even twist the country's arm. Let us not forget that JBS as well as Minerva have received abundant financial support from the Brazilian development bank, how to you compete with the Brazilian treasury."