Poppy Coin Commemorates 35th Anniversary of Falklands War
Thursday, June 8th 2017 - 07:54 UTC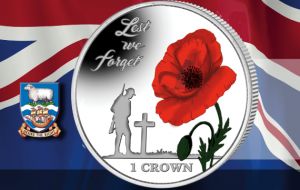 To commemorate the 35th Anniversary of the Falklands Liberation, Pobjoy Mint has produced a 'Lest We Forget' Poppy coin in honor of the soldiers that gave their lives for the sovereignty of their country.

The reverse of the coin features the silhouette of a soldier poised in thought whilst standing over the grave of a fallen comrade. We have also included a poppy in the design, the symbol of remembrance. When producing the poppy we have added great detail to it and used multiple shades of red in order to bring it to life.

We are confident that this coin, released in honor of such a significant event, with be popular with our collectors. The denomination of the coin is a '1 Crown'. The obverse features the Pobjoy Effigy which captures Her Majesty Queen Elizabeth II in high detail.

The long running dispute between Britain and Argentina over the Falkland Islands sovereignty was brought to a head on March 19, 1982, when 50 Argentines landed on South Georgia Island and hoisted their flag. Under the order of General Galtieri of Argentina, the invasion of the Falkland Islands was declared on April 2 that triggered the start of the War.

Coint specifications: metal .925 Silver, CuNi; Diameter 38.60mm: Weight, 28.28g; Issue limit, Silver 10.000; CuNi, 2.000

The 1 Crown Lest We Forget Sterling Silver coins are shipped in an acrylic capsule for protection and housed in a stunning red box with a Certificate of Authenticity. The Cupro Nickel Coins are shipped in the Blue Pobjoy Mint Pouch.