Huge fire kills 12 in West London residential building
Wednesday, June 14th 2017 - 10:42 UTC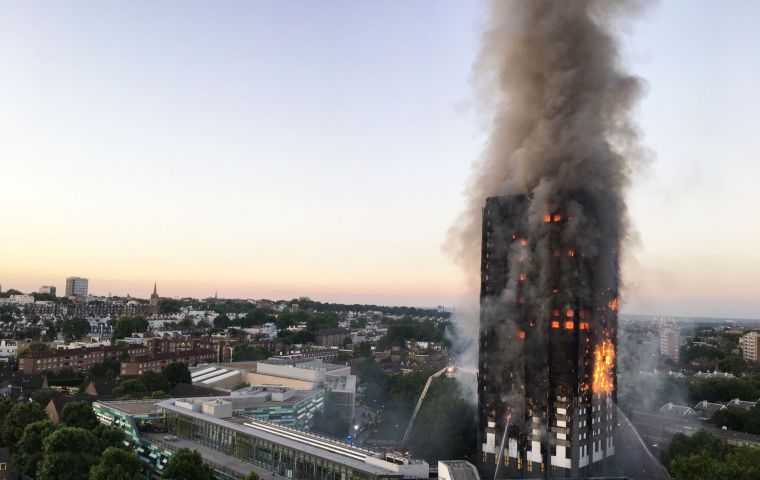 At least 12 people died in a huge fire at the Grenfell Tower, a residential high-rise in West London on Wednesday morning, but authorities fear the number of casualties may grow as works are still in progress in the area and police have given up hopes of finding any more survivors.
Met police commander Stuart Cundy said the death toll is likely to rise further as he does not "think any more survivors will be found". The London Ambulance Service said 69 people have been taken to hospital, while a further 10 made their own way. Up to 18 remain in a critical condition.
"I am deeply saddened by the tragic loss of life at Grenfell Tower. My thoughts are with all those affected and the emergency services," Prime Minister Theresa May said through Twitter.
Witnesses said they saw trapped residents desperately shouting for help from windows on upper floors as flames enveloped the building.
"In my 29 years of being a firefighter, I have never ever seen anything of this scale," London Fire Brigade Commissioner Dany Cotton told reporters.
By 5pm local time, it was still not clear how many people were able to escape the fire and how many others were still missing. Firefighters carried out systematic searches throughout the charred wreckage and officials urged tower residents to call a hotline to help them get a handle on the number of missing.
There was no immediate word on the cause of the blaze, but angry residents said they had warned local authorities about fire issues at Grenfell Tower. The housing block, built in 1974, was recently upgraded, with work finishing in May 2016, according to the Royal Borough of Kensington and Chelsea.
More than £145,000 ($184,000) has been raised by a series of GofundMe campaigns set up to help people affected by the tragic tower block fire.
The London Fire Brigade said 250 firefighters and 40 engines "at its height" were fighting to block the blaze for dozens of hours. The force said fire was unprecedented in "scale, speed and spread" and that forces will stay at the scene throughout the night as the incident remains "live" and "challenging."
A fire at the Lacrosse building in Melbourne's Docklands in 2014 is strikingly similar to London blaze as investigations point to cladding used in building, architecture experts said.
The rapid spread of the Lacrosse building fire, which was sparked by a cigarette on an eighth-floor balcony and raced up 13 floors to the roof of the 21-storey building in 11 minutes, was blamed on flammable aluminium composite cladding that lined the exterior concrete walls.
The same type of cladding was installed on the Grenfell Tower in 2016, as part of a £10m renovation. Aluminium composite panels have a polyethylene or plastic core and an aluminium coating. It is a cheap building material widely used worldwide to clad high-rise apartment buildings.