New Argentine Foreign Minister Jorge Faurie sworn in
Wednesday, June 14th 2017 - 03:08 UTC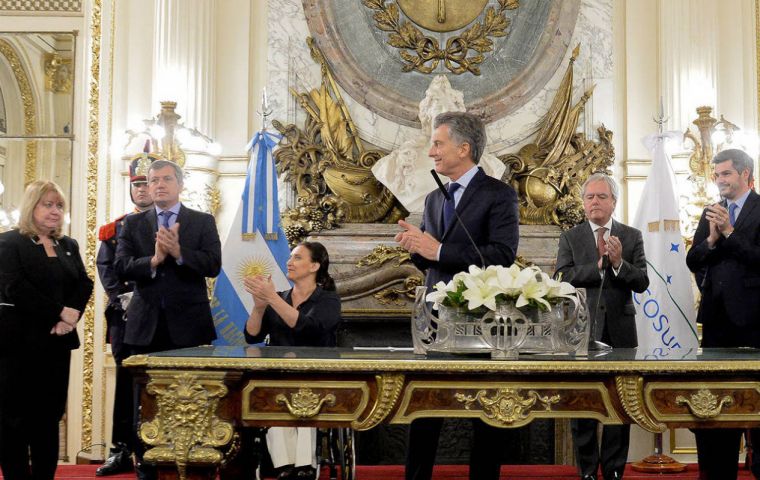 Argentina's new foreign minister Jorge Faurie took the oath of office before President Mauricio Macri to succeed Susana Malcorra, who resigned due to "personal reasons," but will cotinue to serve the government in a different capacity.
At the ceremony, last Monday 12th Macri said that under Minister Faurie Argentina will continue to "deepen its reaching out to the world" to "integrate, encourage competition and develop all its potential." He added that that "in a world full of doubts and conflicts, Argentina today presents itself as an opportunity, but the important thing is that we stop being the opportunity to become a reality."

Macri pointed out that it is time to put aside "fears and prejudices", to understand that "we are able to negotiate in equitable terms and that what we contribute we can reap more." He also praised Faurie's diplomatic career and the support he received from his colleagues when he was chosen and remarked that double or triple complex task," awaits the new minister, in reference to what succeeding Malcorra brings along.

According to Macri, among the various challenges that lie ahead in the field of foreign relations are the entry into the OECD, the integration of Mercosur and negotiations with the European Union. "Cast apart from the world, Argentina will not be able to realize its potential and will not reduce poverty, which is my main objective as President," said the president.

Macri also said Malcorra's management meant "a wonderful experience" and stressed that the former minister will continue to work for the government as head of the High Level Council for Global Analysis.