UK starts Brexit negotiations from a weakened position
Monday, June 19th 2017 - 14:51 UTC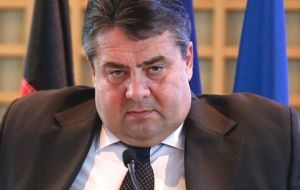 Talks between the United Kingdom and the European Union to finalise Britain's exit from the continental block started Monday in Brussels, about one year after Britons voted that their country is to leave the bloc by March 30, 2019. But Europe is determined to set an example so that other countries will not be attracted to the idea, even if it includes leaving an open door for Britain to stay.
A Brussels summit next Thursday and Friday between British Prime Minister Theresa May and fellow EU leaders is expected to pave the way for calmer talks after some spiky exchanges. But continental Europe now negotiates from a different, stronger position and leaders such as German Chancellor Angela Merkel and French President Emmanuel Macron are determined not to make concessions that might encourage others to follow.
When 52 percent of British voters opted for Brexit, some feared for the survival of a Union battered by the euro crisis and divided in its response to chaotic immigration. The election of the fervently europhile Macron, and his party's sweep of the French parliament on Sunday, has revived optimism in Brussels.
Presently, May is barely clinging to power and her representatives are hastily insisting that London will indeed push forward with Brexit, German and EU leaders seem relaxed and confident.
In an interview with the Die Welt newspaper, German Foreign Minister Sigmar Gabriel offered what was essentially an invitation for the UK to change its mind. "It would naturally be best if Britain didn't leave at all," he said. "It doesn't look like that at the moment, but we want to keep the door open for the British."
But taking on one thing at a time, the EU's a priority is to guarantee their rights for 3 million EU citizens in Britain and to collect billions of euros it says London will owe on its departure. As chief EU negotiator Michel Barnier put it, his priority is to clear up "uncertainties caused by Brexit."
With a further million British expatriates in the EU, May too wants a deal on citizens' rights, though the two sides are some way apart. Agreeing to pay a "Brexit bill" may be more inflammatory.
The socialist Gabriel said the Conservative government in London "played with the emotions of citizens in Britain, told fake news about Europe and left people unclear about what consequences this would all have" and "they bet on a snap election because they thought they could use tactical tricks to get a bigger majority." Gabriel said. "Now there is a difficult, even impossible situation without any clear majorities or negotiating strategy, he added."
May was hoping to increase her support in the British election on June 8, but instead her party lost its outright majority and now has to try to form a workable government with a tiny party from Northern Ireland. "Here, people who created this sort of chaos would be long gone," Gabriel said.
While "Brexiteers" have strongly backed May's proposed clean break with the single market and customs union, finance minister Philip Hammond and others have this month echoed calls by businesses for less of a "hard Brexit" and retaining closer customs ties.
As many political analysts have agreed, discontent in europhile Scotland and troubled Northern Ireland, which faces a new EU border across the divided island, Brexit poses new threats to the integrity of the United Kingdom, which do not seem to visibly affect David Davis, the top British negotiator in Brussels, for whom the hard work "now begins" in his own words.
He also said his team is starting the process with a "positive and constructive tone," and that "there is more that unites us than divides us." He added that "now, the hard work begins," Davis said, adding he wanted a deal that worked for both sides. "These talks will be difficult at points, but we will be approaching them in a constructive way."
May's recent election debacle has revived feuding over Europe among Conservatives that her predecessor David Cameron hoped to end by calling the referendum and leaves EU leaders unclear on her plan for a "global Britain" which most of them regard as pure folly. Brussels is also resisting British demands for immediate talks on a future free trade arrangement.
Guy Verhofstadt, the European Parliament's chief Brexit negotiator. But he also hinted that even should there be a British change of heart, there would be no return to the current status quo.
"The path is open for the British to change their minds and become part of the European Union again," Verhofstadt told Welt. "But they'll find a different EU than the one they left, an EU with no special wishes, concessions and unnecessary complexity, but with more powers for Europe."
Both Gabriel and Verhofstadt said that they hoped May's election fiasco would encourage Britain to pursue a "soft Brexit" preserving as many ties with the EU as possible. But both diplomats underlined that any future partnership with the EU would bring responsibilities as well as benefits.
Gabriel said it might be possible for the UK to stay in the European common market, but warned that London would have to abide by the principle of freedom of movement for EU workers. He added that Britain would have to accept the jurisdiction of either the European Court of Justice or a "joint court" of Europeans and Britons.
Verhofstadt said that British offers concerning the rights of EU citizens in the UK didn't go far enough. "It's good that the British government is thinking about the rights of EU citizens in Great Britain," he told Welt. "But it's unsettling that Brexit Minister David Davis only wants to guarantee these rights for those who immigrated before March 29," he added.