Attacker was the only person dead after new terror attack in Brussels' train station
Wednesday, June 21st 2017 - 02:53 UTC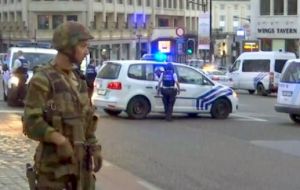 Belgian security forces shot dead a would-be suicide bomber around 9 p.m. local time Tuesday in Brussels' central train station, which was evacuated following a small but fiery blast, in what is being treated as a new case of terrorism. Apart from the attacker, there were no other casualties, it was reported.
The perpetrator set off a small explosiive device and was then shot by one of the routine military patrols active in Brussels since attacks more than a year ago. Only hours later, after bomb disposal teams had cleared the area, was the man confirmed dead. There was no word on his identity. Meanwhile, heavily armed police officers and soldiers surrounded the train station and sealed off the entrances, according to witnesses and video from the scene.
"We consider this a terrorist attack," prosecutor Eric Van Der Sypt told reporters by the nearby Grand Place. Police had cleared streets around Brussels' landmark Renaissance town square after the blast, which occurred around 8:30 p.m. (1830 GMT) as tourists and locals were enjoying a hot summer's night.
Witnesses spoke of a man who shouted Islamist slogans, including "Allahu akbar" - God is greater - in Arabic, in an underground area of the station still busy with commuters making their way home and seemed to set off one or two small blasts that filled parts of the building with smoke.
The Belgian capital, home to the headquarters of NATO and the European Union, has been on high alert since a Brussels-based Islamic State cell organized the attack that killed 130 people in Paris in November 2015, after which attacks in France, in Germany, Sweden and Britain have taken place.
With Islamic State under pressure in Syria - where Belgium has been the most fertile European recruiting ground for foreign Islamist fighters - attacks in Europe are expected to increase, though many of these would be by "amateurs" doing little harm.
Prime Minister Charles Michel after consulting with his security advisers decided to maintain the national alert at its second highest level and convened a National Security Council meeting for early Wednesday.