UN C24 calls for negotiations over Falkland Islands sovereignty between Argentina, UK yet again
Saturday, June 24th 2017 - 01:53 UTC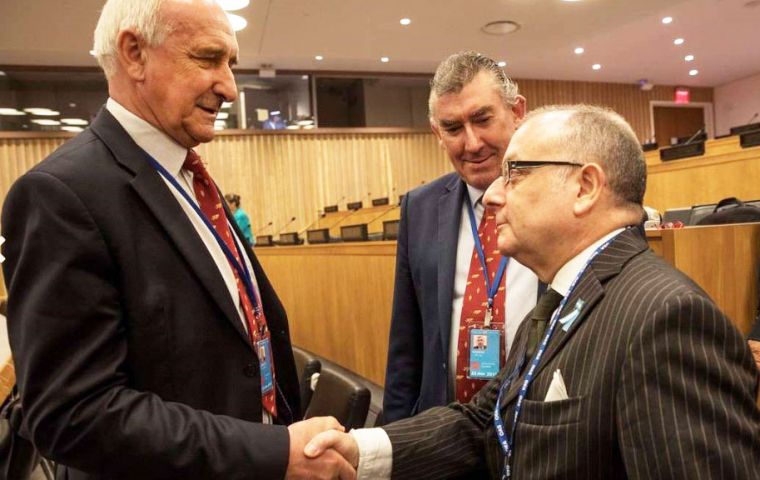 President Mauricio Macri's administration Friday renewed Argentina's case before the United Nations' Decolonization Committee in New York to bring the United Kingdom to discuss sovereignty over the Falkland, South Georgia and South Sandwich Islands and their surrounding maritime spaces.
It was Foreign Minister Jorge Faurie's first time as head of the Argentine delegation since taking office from Susana Malcorra on June 12.
Although a ritualistic yearly event where Faurie pleaded, as usual, to settle the dispute in a negotiation with the United Kingdom, Friday's presentation came within a context of rapprochement between Buenos Aires and London, which led to the signing of the joint statement late in 2016, whereby the current International Committee of the Red Cross' mission to identify the bodies of Argentine soldiers buried 123 graves at the Darwin cemetery was made possible.
It was a first for Faurie and a last appearance for Falkland Islands MLA Mike Summers, who is to retire by the end of the year. He insisted that the islands were not a colony of the United Kingdom but a successful and self-sufficient economy and that the islanders had a right to "self-determination."
Summers said there had been "very welcome progress" and that, among other issues, the return of commercial flights between the islands and the mainland had begun, but after that first progress, everything was now frozen. He also accused Argentina of exercising "economic colonialism" with sanctions to undermine the islanders' economy and pressure them.
"Argentina has failed to honour the agreements in force," Summers said before the UN C24.
Faurie explained that his Government is convinced that the relationship with the United Kingdom "must be recovered" and that a "broad agenda" with London is needed. He also underlined that "we firmly believe in the value of sitting at the table to discuss any topic."
He added that "the Argentine Republic is determined to respect and defend the way of life of those living in the Malvinas - it is a commitment by all democratic governments." He then pointed out that the resolution of the dispute should take into account as an indispensable requirement the "interests of the population of the islands".
As is the case each year, the Committee unanimously adopted a resolution reiterating the call for a "peaceful and negotiated solution to the dispute over sovereignty" between Argentina and the United Kingdom. The resolution was presented by Bolivia, Chile, Cuba, Ecuador, Nicaragua and Venezuela. (Source La Nacion)
- Address to the UN 24 by Hon. Ian Hansen MLA of the Falkland Islands
- Address to the Special Committee on Descolonisation by Hon Mike Summers OBE, Member of the Legislative Assembly of hte Falkland Islands - 23rd June 2017