'Alive' survivor Coche Inciarte writes his memoirs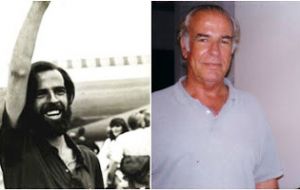 José Luis "Coche" Inciarte, one of the 16 survivors from the Uruguayan Air Force Flight 571 crash into the Andes mountains on Friday, October 13, 1972, has published his memoirs, in which he focuses on that life-changing event.
"There are 16 cordilleras, one for each of the 16 of us who have survived, and although based on the same facts, they are somewhat different."
Coche said his book, titled Memorias de los Andes (Memories of the Andes) addresses this issue, rather than the well-known action anecdotes, which include feeding of the dead.
Inciarte was a member of a Uruguayan rugby team who chose the Air Force's lower charter fare for a sporting tour of Chile. Flight 571 was a Fairchild F-27 turboprop transport aircraft.
With many survivors having already written about their plight, Inciarte's book needed to focus on what had not been yet explored, so he delved into the bond he established with his fellow passengers.
"I learned to observe human behaviour, and I could conclude that the highest human condition on this planet could be seen at 4,000 metres," he said in a TV interview.
He added that his point of view was that of someone who stood in a different position. He admits he "was not a protagonist."
"Alive" was the name of Piers Paul Read's 1974 book which inspired the 1993 Hollywood movie, featuring Ethan Hawke in the leading role of Nando Parrado.
Gordon Currie played Coche's part in the film, which was directed by Frank Marshall and narrated by John Malcovich.