Trump's revised travel ban scores first SCOTUS win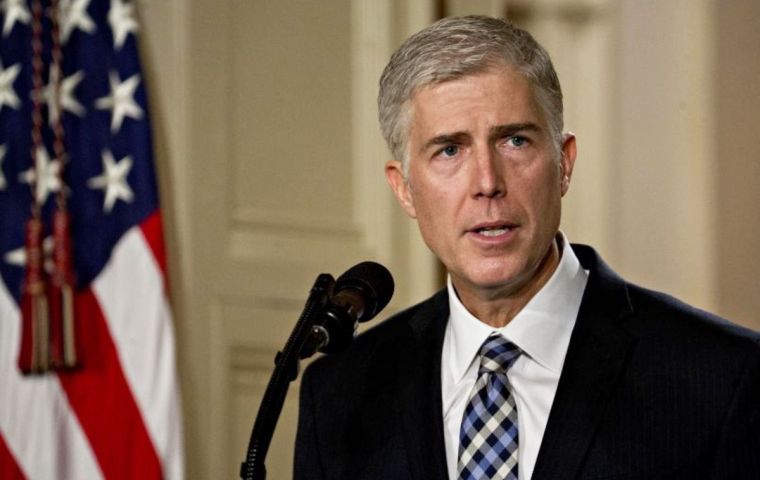 The Supreme Court of the United States (SCOTUS) on Monday partially lifted an injunction on President Donald J. Trump's travel ban and thus allowed restrictions on citizens from certain predominantly Muslim countries to go into effect.
In practical terms, those unable to prove they have a bona fide relationship with a person or entity in the United States would be denied entry and those who do meet the requirement will receive a green light.
The decision is regarded as a victory for Trump's administration would affect holders of passports from Iran, Libya, Somalia, Sudan, Syria, and Yemen.
Denying entry to a person that does not have a relationship to a person or entity in the United States "does not burden any American party by reason of that party's relationship with the foreign national. And the courts below did not conclude that exclusion in such circumstances would impose any legally relevant hardship for the foreign national himself," the court said.
The issue has been a big legal controversy since Trump's first executive order in that regard signed on January 27.
The case is at the Supreme Court because two federal appeal courts, the 4th and 9th Circuit courts, have ruled against the Trump travel policy, which would impose a 90-day pause in travel from citizens of Iran, Libya, Somalia, Sudan, Syria and Yemen.
The 4th Circuit based in Richmond, Virginia, said Trump's order discriminated against Muslims.
The 9th Circuit in San Francisco ruled on immigration law, saying Trump's order failed to provide the required justification under the Immigration and Nationality Act for suspending the entry of more than 180 million people on the basis of nationality.
Opponents of the ban claim it will prevent people from visiting U.S. family or applying for visas to work or study here. SCOTUS disagreed with those opponents and with the rulings of both the 4th and 9th Circuit Courts, which had blocked the ban on the basis of a possible violation of the Establishment Clause and of the Immigration and Nationality Act, respectively.
Trump's ban on travel to the U.S. from the six listed country is time-limited. For people lacking a "bona fide relationship with a person or entity in the United States," the ban bars access for a period of 90 days. For people claiming refugee status, it bars access for a period of 120 days.
When the court takes up Trump's case later this year, its focus will be on removing any doubt about the president's power to limit immigration in response to terror threats.
Conservative Justices Clarence Thomas, Samuel Alito and Neil Gorsuch, in the Monday decision, said they would have allowed Trump's original complete travel bans to take effect, noting that the administration's interest in national security outweighs any hardship the government might create for foreign nationals wishing to enter the country.
Harvard Law Professor Alan Dershowitz has said on Twitter that the SCOTUS Monday's decision is a sign that the final ruling in October will not be much different.
He also explained in his Fox column that the court's decision "does not mean that the (lower) courts would uphold a ban that expressly discriminates against Catholics, Jews, or Muslims. But a ban that applies to countries that have a serious problem vetting potential terrorists would be valid even if all of those countries had Muslim majorities. The president has a right to focus on Islamic terrorism as a primary source of danger to Americans, and Islamic terrorism comes disproportionately from Muslim majority countries," Dershowitz explained.