Macri and Bachelet meet in Santiago to discuss trade and also Venezuela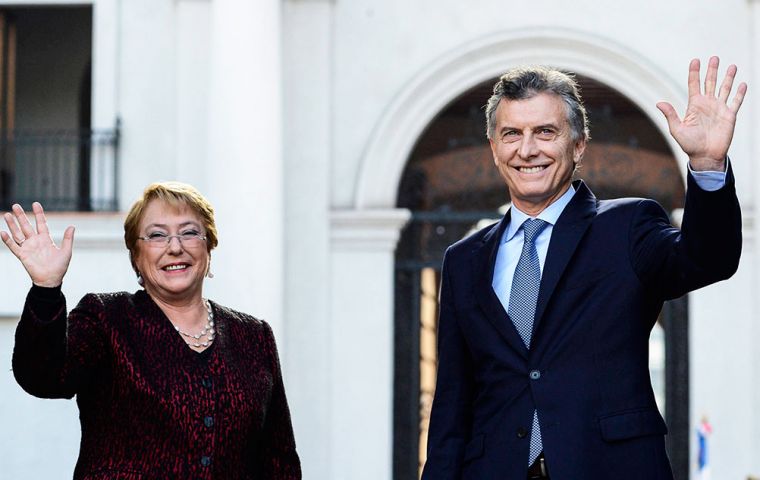 Presidents Mauricio Macri of Argentina and Michelle Bachelet of Chile met Tuesday at the Palacio de la Moneda in Santiago to discuss bilateral ties and a trade agreement between the two countries.
After the meeting, they offered a joint press conference statement in the Patio de las Camelias, during which they agreed they were concerned "about what is happening in Venezuela."
Before the meeting with Bachelet, Macri was welcomed by the presidents of both houses of Parliament, the Socialist Deputy Fidel Espinoza and the Christian Democratic Senator Andrés Zaldívar.
After that encounter, Macri said: "I am confident that we can really advance in integration and also in the rapprochement between Mercosur and the Pacific Alliance."
He added that there was "an admiration of what the Chilean people has done in the last decades, because of the progress and evolution they have had."
In the afternoon, the Argentine president and his entourage met with senior executives and young Argentine entrepreneurs living in Chile and also et with businessmen and investors to evaluate "Strategies of international insertion of Argentina and integration with Chile."
Macri flew back to Buenos Aires on the same day.