Sturgeon puts independence referendum off until better days
Wednesday, June 28th 2017 - 03:20 UTC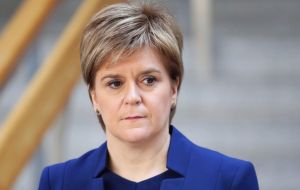 Scottish First Minister Nicola Sturgeon Tuesday admitted she needed to "reset" her referendum strategy and that she had abandoned her demands for a new independence referendum before the signing of the Brexit deal.
"I am therefore confirming today that, having listened and reflected, the Scottish government will reset the plan I set out on 13 March," she told the Edinburgh Parliament. "We will not seek to introduce legislation for an independence referendum immediately."
The announcement comes after her party lost a string of seats to pro-union parties in the general election. The Scottish National Party (SNP) lost 21 of its 56 Westminster seats at the election, where support for the party fell by 477,000 votes from the 2015 general election.
However, she left a door open, saying it was still "likely" a referendum would take place around 2021.
Sturgeon conceded there was not enough support in Scotland for a second vote on independence before the UK leaves the EU and that her priority now was to focus on getting the best Brexit deal possible.
"We will – in good faith – redouble our efforts and put our shoulder to the wheel in seeking to influence the Brexit talks in a way that protects Scotland's interests," Sturgeon said.
She added that "my responsibility as first minister is to build as much unity and consensus as possible," and that "we face a Brexit that we didn't vote for and in a form more extreme than any of us could have imagined one year ago."
"At the end of this period of negotiation with the EU – likely to be around next autumn – when the terms of Brexit will be clearer, we will come back to parliament to set out our judgment on the best way forward at that time, including our view on the precise timescale for offering people a choice over the country's future," she said.