Kissinger in Moscow meets privately with Putin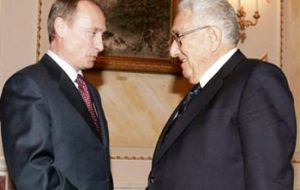 Russian President Vladimir Putin Thursday welcomed former US Secretary of State Henry Kissinger, who is visiting Russia to attend the Primakov Readings, an international conference of top-rated political experts. The meeting took place at the Kremlin.
"Putin and Kissinger have maintained warm personal relations over a number of years and they have meetings when an opportunity avails itself," presidential spokesman Dmitry Peskov said.
The Kremlin also issued a press statement, which did not elaborate on the topics discussed by the two men. But there were rumours that it could have been a meeting between Putin and US President Donald Trump. Kissinger and Trump met last month. Both Presidents are expected to be at the G20 in Hamburg, Germany next week.
Contacts between Russia and the United States are under intense scrutiny following allegations by US intelligence officials of Russian interference in last year's US presidential election.
Kissinger, as national security adviser to US President Richard Nixon, established a private channel of communication with Anatoly Dobrynin, the Soviet ambassador to Washington, which historians credit with helping ease Cold War tensions.