Unions to hold second strike against Temer's reforms
Friday, June 30th 2017 - 03:14 UTC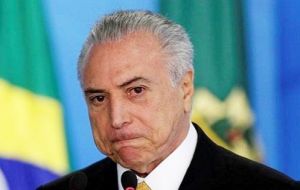 Brazil's union federations will hold a second strike on Friday with demonstrations against the government's economic reforms and to demand the resignation of President Michel Temer, who has vowed to approve labour flexibility in the coming weeks.
Meanwhile, the corruption case against Temer reached Congress for the House of Deputies to decide whether or not to commence impeachment procedures.
Friday's strike is not expected to be as forceful as previous measures of the same kind, because it will lack support from Forca Sindical and UGT. In Sao Paulo and Rio de Janeiro demonstrations are expected by Friday evening.
Despite the president's critical situation, his labour reforms seem to have a "life of their own" as it was moved onto the full Senate after approval by 11 votes to 8 in the Constitution and Justice Commissions. The reforms - including the pension reform - will take place should Temer resign, Central Bank President Ilan Goldfjan admitted, trying to give confidence in the adjustment agenda to investors.
Temer's Party of the Brazilian Democracy Movement (PMDB) suffered a resignation from a reform critic, the head of its bloc, Renan Calheiros, who aligned himself with the trade union centrals and opened a new crisis.
Calheiros accused the president of being ruled from prison by former deputy Eduardo Cunha, mentor of the impeachment to Dilma Rousseff last year, which cleared the way for the promotion of the then vice president. Rousseff herself has called for her impeachment to be revised, because "it is a plot by Cunha to put Temer in her place."
Temer has already withdrawn from attending the G-20 summit next week in Germany in view of the charges against him.
"The labor reform carried out by the government makes work precarious, with loss of rights. It is unacceptable that a president wants to stay in power by approving the employer's agenda, mainly because he has neither legitimacy nor morality and is the first president in office to have been charged with corruption," said Vagner Freitas of the Central Workers' Union (CUT).
The labour bill is about changing wage bargaining, allowing employers and employees to negotiate without the unions' involvement.
"We run the risk of returning to conditions similar to slavery," warned former trade unionist and former President Luiz Inacio Lula da Silva of the Workers' Party (PT) last week.
Temer Thursday night chose Raquel Dodge to be the countries new Attorney General after Rodrigo Janot's term expires in September.
The House of Deputies must now decide whether to proceed with the impeachment or not. If yes, Temer will have to leave the office for 180 days and House of Deputies Speaker Rodrigo Maia would be sworn into the presidency.