Cuba, Australia pledge to strengthen economic cooperation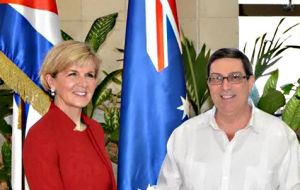 Cuban Foreign Minister Bruno Rodriguez Parrilla and his Australian counterpart, Julie Bishop, Friday signed a memorandum of understanding whereby both countries will strenthen their economic ties.
During the meeting in Havana where the signing of the agreement took place, both foreign ministers exchanged views on the positive state of Cuban-Australian relations. They also expressed interest in enhancing the development of the trade links and discussed other issues on the international agenda.
"There are a number of areas where our links with Australia are strong, such as education, sports, biotechnology, mining, energy, the pharmaceutical industry and others where there is still a long way to go," Rodríguez Parrilla said as Cuba thanked Australia for facilitating its joining the Pacific Islands Forum - Oceania's main pan-regional organization - as a Dialogue Partner.
Both countries are said to share views on issues such as climate change, the defense of freedom of trade and navigation, and the rejection of unilateral coercive measures.
It was Bishop's first official visit to the Island. Cuba and Australia established diplomatic relations in January 1989. In 2016, they signed an agreement to restructure the island's debt to Canberra within the framework of a multilateral arrangement between Havana and the Paris Club creditors.
Bishop said that Australia welcomed Cuba's economic reforms, especially the decision to encourage greater foreign direct investment. She pointed to her countries' strengths in areas like mining, energy, farming and agribusiness, infrastructure, and educational services.