H & M clothing chain announces Uruguay 2018 landing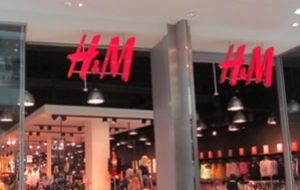 The Swedish multinational brand H & M, known for its trendy clothing at affordable prices and which is present in 64 countries with a total of 4.300 stores, Friday announced on its website its plans to open stores in Uruguay and Ukraine by 2018.
Uruguay will be the sixth market in Latin America for the group behind brands like H & M, Cos, Weekday, Cheap Monday, Monkl, and & Other Stories, which employs over 100,000 people worldwide.
According to the company's website, each of the brands "are united by a passion for fashion and quality and drive to dress customers in a sustainable way." The H & M brand is well known for selling trend clothing at affordable prices.
H & M announced a 10% increase in profits in the second quarter of this year, the AFP French newsagency reported, which was above expectations due to the opening of new stores and cost control. Net profit between March and May was 5.9 billion crowns (606 million euros), 10% more, while turnover also increased by 10%, to 59.5 billion crowns. Operating profit (before interest and taxes) was 7.6 billion crowns, slightly above market expectations, which was forecast at 8 billion, according to financial agency SME Direkt.
"The increase in profit in the second quarter is mainly explained by our continued development and strict cost control," H & M said in a statement.
The brand continues to open stores around the world to compensate for the curtailment of profitability it already has, in a context of great competition with online sales platforms.