Venezuelan student organizations say 62 of their members have been arrested so far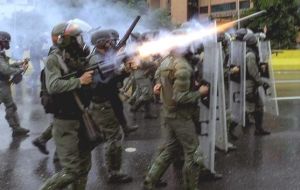 The number of students brought into custody by Venezuela's régime during opposition protests in the past three months amounted to 62 by Friday, according to Daniel Ascanio of the Simón Bolívar University students grouping.
Venezuelan police late Thursday arrested two more students after demonstrators tried to reach the National Electoral Council (CNE) building in Caracas. Tear gas and pellets were fired during the repression.
Ascanio said that two of the students' relatives were able to come in to see them in their detention centres and found them to be "well" physically. Their arrests were shot on videos where the moment when government agents can be seen placing them, already handcuffed, in the tank of a truck in which tear gas was leaked.
"There is no reason for them to be detained," because they protested "peacefully," Ascanio explained. The detainees are to appear before "civil courts," Ascanio said as he ruled out the possibility that they would be tried in military jurisdiction, as has happened on previous occasions with other demonstrators.
Caracas tops the list of students arrested with 29 out of the total 62, according to Ascanio.
According to the NGO Penal Forum, more than 3,500 people have been detained in three months of opposition protests that have already led to 82 killings by government forces.