Announcement in Madrid: EU-Mercosur deal likely by end of year
Tuesday, July 4th 2017 - 02:57 UTC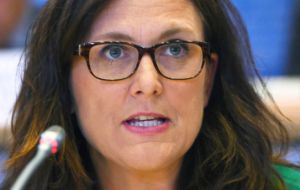 European Union (EU) Trade Commissioner Cecilia Malmström said Monday in Madrid that the EU bloc "hopes to announce a political agreement for this Christmas in Buenos Aires" with Mercosur "even though technical aspects remain to be discussed."
"I firmly believe that we can reach a balanced and mutually beneficial agreement that opens up new possibilities for us and also for companies from Mercosur countries in Europe," Malmström said.
She anticipated this agreement could be sealed during the World Trade Organization (WTO) meeting in Buenos Aires by the end of the year.
Still, Malmström acknowledged there is still much work to be done to make the agreement possible. "There are difficult chapters where positions are still far apart and a lot of work remains to be done, but there is a strong commitment from both sides," she added.
Malmström took part in a seminar in Madrid which also featured Foreign Ministers Jorge Faurie (Argentina), Eladio Loizaga (Paraguay) and Rodolfo Nin Novoa ( Uruguay), as well as Brazil's Commerce Minister Marcos Pereira on the Mercosur side and top European business leaders.
"The negotiation currently under way has technical contents and also a political decision, and we are expecting to arrive in December with this result, as indicated by European trade commissioner Malmström," said Faurie
"We are all concerned about protectionism and this trend that is beginning to consolidate in some parts of the world," Faurie added in reference to the policy implemented by the Donald Trump administration in the United States.
He added that in this context "international dialogue is the answer, as well as international trade that generates opportunities for quality work and employment."
Faurie also explained that "we believe that the answer is to be able to sign agreements like the one we are negotiating, because this will allow us to integrate our markets , by the European Union of some 700 million consumers and by Mercosur of another 300 million."
Negotiations to reach a trade agreement between the European Union and Mercosur began in 2000, but after a first exchange of market access offers in 2004 they were paralyzed until 2010.