Bolivia's YPFB wins bid to sell LPG to Paraguay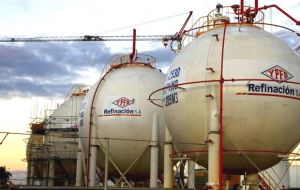 Yacimientos Petrolíferos Fiscales Bolivianos (YPFB) CEO Oscar Barriga announced Monday that the state company will export 4,000 tons of liquefied petroleum gas (LPG) to Paraguay.
"We have won the tender made by Petropar to sell 4,000 tonnes of LPG to cover the winter demand for that country," he told a news conference.
The additional revenue from the sale of LPG to the neighbouring country will be two million dollars, explained Barriga. Each tonne is exported at $ 470, he added.
The Rio Grande and Carlos Villegas liquid separation plants produce 600 thousand tons of LPG annually, of which 70 percent goes to the domestic market and 30 percent is expected to be exported.
The Rio Grande Liquids Separation Plant, which started operating in 2013, allowed for domestic self-sufficiency in the supply of LPG and the beginning of export activities to neighbouring countries. Markets increased substantially after the Carlos Villegas became active in the Gran Chaco province of Tarija.
Barriga also explained that with this new sale YPFB becomes a "major player" in the LPG regional industry.