MUD to hold plebiscite against Maduro's Constituent Assembly plans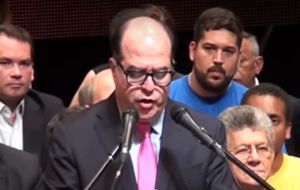 Venezuela's opposition Democratic Unity Roundtable (MUD) announced Monday it will hold a public consultation regarding Nicolás Maduro's intention to reform the constitution by calling for an election to choose the constituent assembly.
Leading opposition lawmaker and National Assembly Speaker Julio Borges said that in accordance with article 71 of the current Constitution, the consultation process should be called "from the result of the sovereign decision process, to activate the democratic uprising in the country."
"That Zero Hour is activated, we call on all the people to decide which way is that of the nation. Under articles 5, 333 and 350 of the Constitution we call [the people] this July 16 to choose the future of the country. We want the people to decide...," about the Constituent Assembly," Borges said.
He explained that it is the people who decide if they want the renewal of power outside the Constitution or the formation of a government of national unity and the holding of free elections.
The MUD's consultation will have three questions: Do you support Nicolás Maduro's continuity as president? Do you agree with a communal constituent body? And what should be the role of the armed forces in ​​the event of a constitutional violation?
The current Constitution's article 71 provides for the popular referendum and indicates that subjects of national importance can be submitted to such a procedure at the initiative of the president, the Parliament (by the majority of its members) or by a number of 10% of registered voters. Under article 293 the branch calling for the consultation is to be in charge of organizing it.