Aerolineas carries 30% more passengers in first semester compared to 2015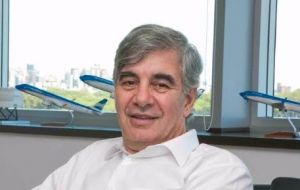 Aerolineas Argentinas' CEO Mario Dell'Acqua Tuesday announced the national flag carrier had transported just over 6.2 million passengers, 30 percent more than the 4.5 million transported in the same period of 2015, the company's best year in that regard. In 2016 the figure was of around 5.5 million.
"The company managed to transport in the first six months of 2017 thirty percent more passengers than in the first half of 2015, which was the best year of the airline in terms of passengers transported during the previous management," said Dell'Acqua.
"We managed to grow, reduce the deficit and prop up the future without any layoffs and without cutting down routes," Dell'Acqua said. "We are offering more frequencies, we are hiring pilots and on-board crew and we are recovering not only credibility among passengers, but we are also adding new travelers based on efficiency, punctuality and our low cancellation rate."
Dell'Acqua also said that the government only contributed US $ 170 million for this year and forecasts indicate they will not be "requiring more than that" and that by 2018, the State's contribution will be below US $ 100 million in government subsidies. The national state disembursed US $ 670 million in 2016.
"I was said to be coming to lead the downsizing, but reality shows we only tried to achieve our goals by lowering operating costs, selling more tickets and increasing the number of passengers,"
through "a more aggressive sales policy, with promotions … and agreements with banks to finance the tickets as well as eliminating the outsourcing of what "we could do ourselves," Dell'Acqua said.
Aerolíneas has also made its website more client-friendly. Online operations from ticket purchases to check-ins have been made easier. "And contrary to widespread rumours, we haven't lifted our Rome route," Dell'Acqua went on to say.
The flag carrier is expected to increase its routes in the near future, opening additional hubs within Argentina. A flight between San Martin de los Andes and Sao Paulo is also being considered due to the large number of Brazilians arriving at the skiing resort every winter.